Good News: 10-Year Anniversary Promotion - Get Ready!
Buy ONE TV Box, Get TWO Gifts FREE.

▶. Gift one: 64G U Disk * 1 piece.
▶. Gift two: Mini Wireless Keyboard Backlit * 1 piece.


(Function: Mouse keyboard touch / Battery / Digital keyboard / Three-color backlight / Colorful running lamp. A great partner for the TV box).
Attention please:
This activity is limited to these models: EVPAD 10P, EVPAD 6P, Unblock UBox 10, SviCloud 9P and SviCloud 8P.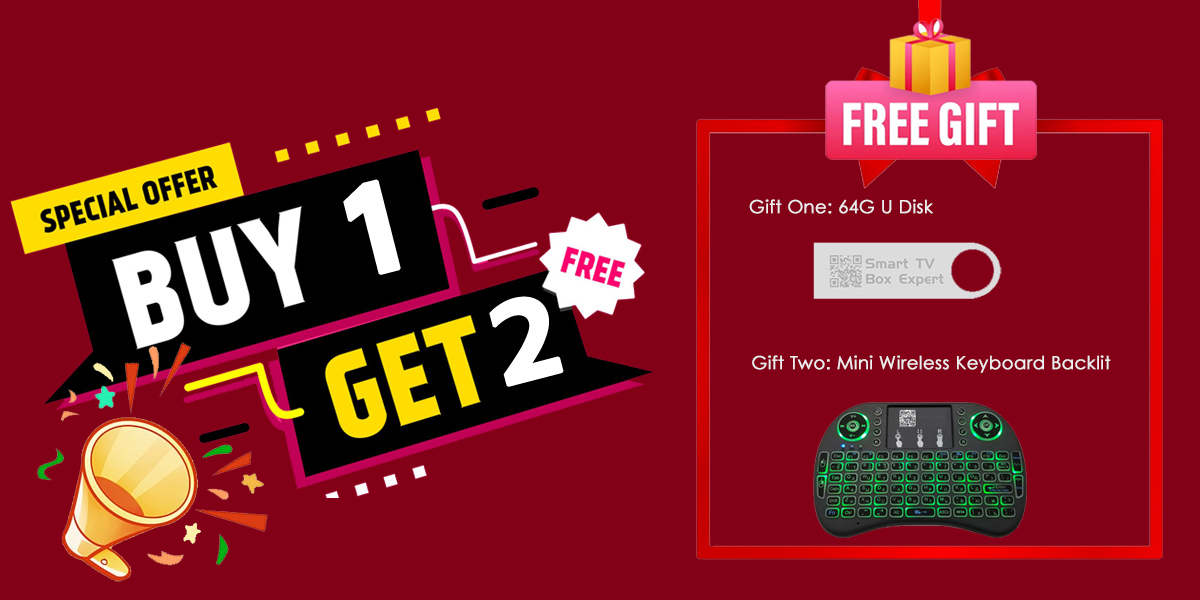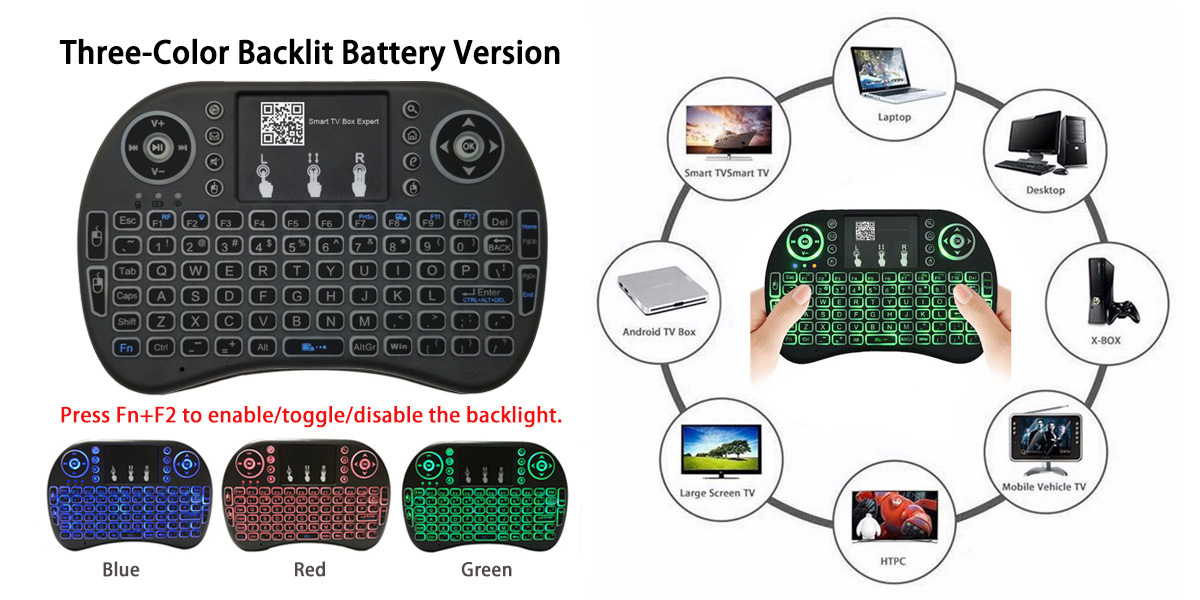 ---
EVPAD 10P TV Box New Upgrade ----

2023 New Arrival

---- Shockwave Coming
Experience the Next Level of Streaming with EVPAD 10P TV Box! Ready!
The all-new 10th generation Flagship Intelligent Language TV box. Ultra clear 8K, an eye-opener.
EVPAD 10P is absolutely the most anticipated smart TV box in 2023. You deserve it.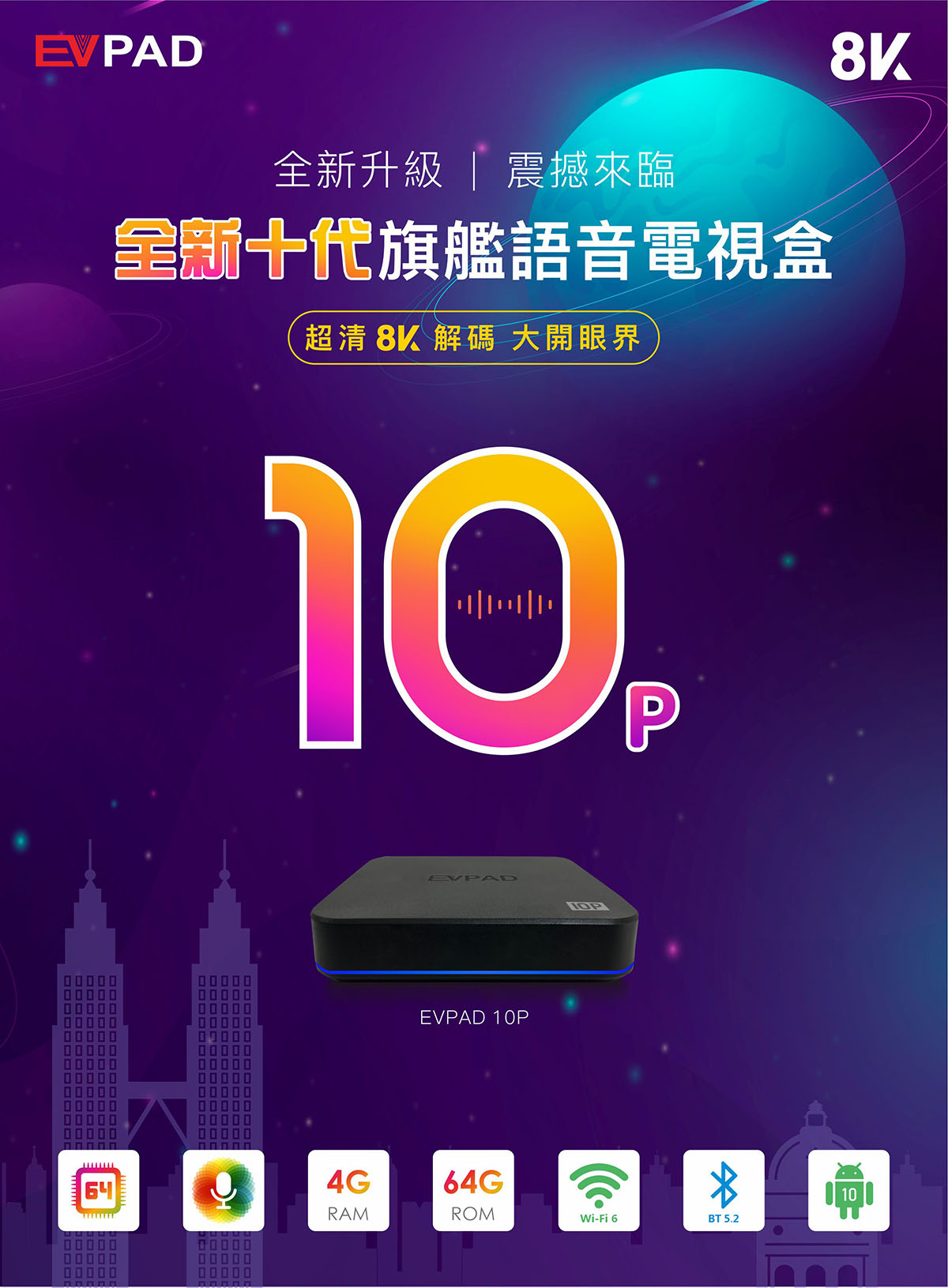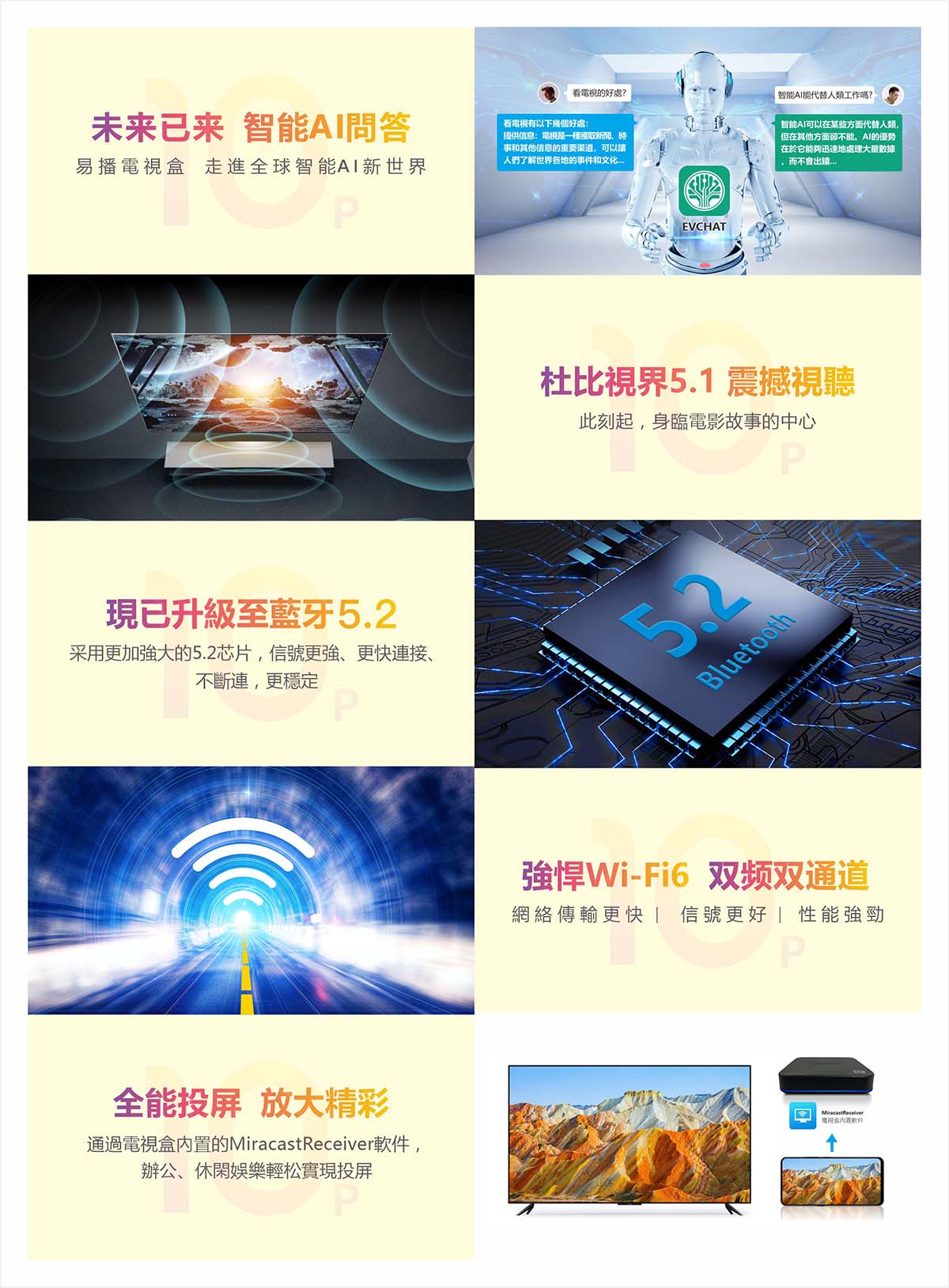 EVPAD 10P - 2023 New Upgrade | Shock Coming

▶. EVPAD 10P - Latest EVPAD tenth generation flagship smart voice TV box hot selling.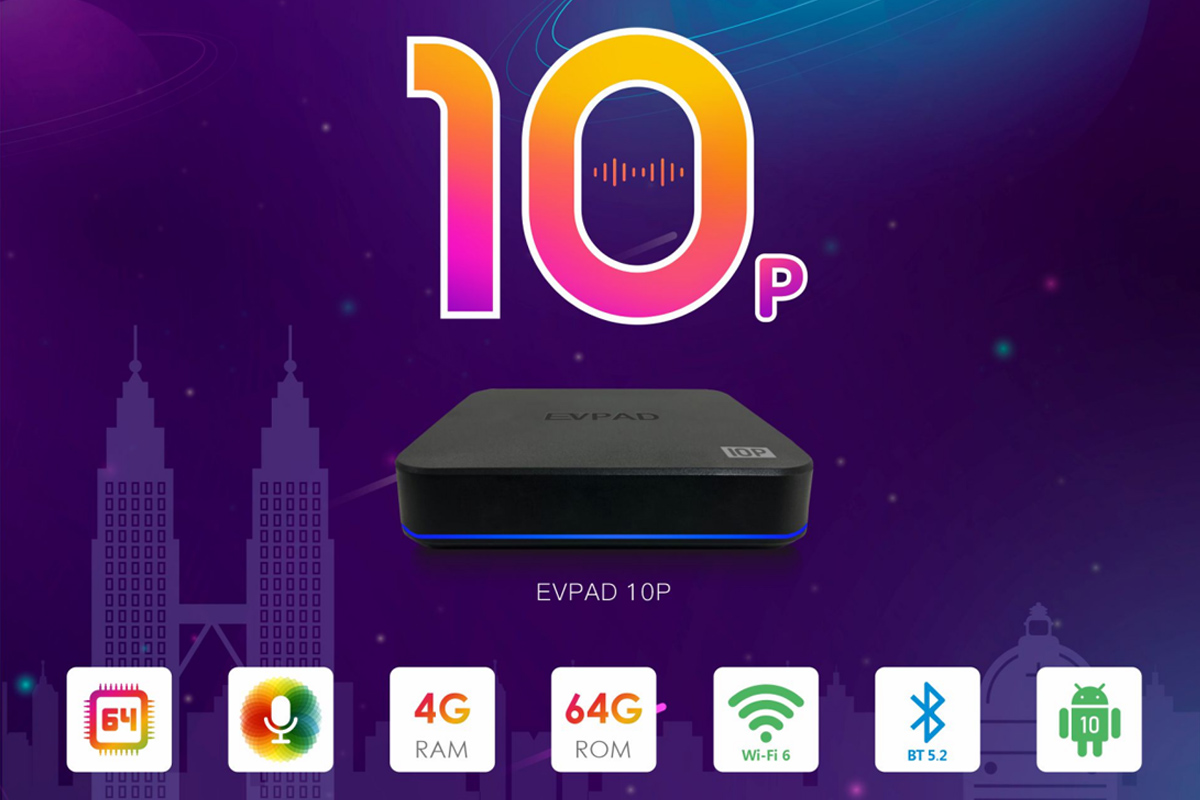 EVPAD 10P: The Future Has Coming - Smart AI Q&A - Staring with "

EVCHAT

"

▶. EVPAD 10P TV Box takes you into the global intelligent AI world.
2023 new version EVPAD 10P had been introduced new features including the inclusion of an AI Chat feature. You can chat with EVPAD10P easily, it can quickly reply to you.

Note: "EVCHAT" refers to a specific feature, application, and service offered by EVPAD.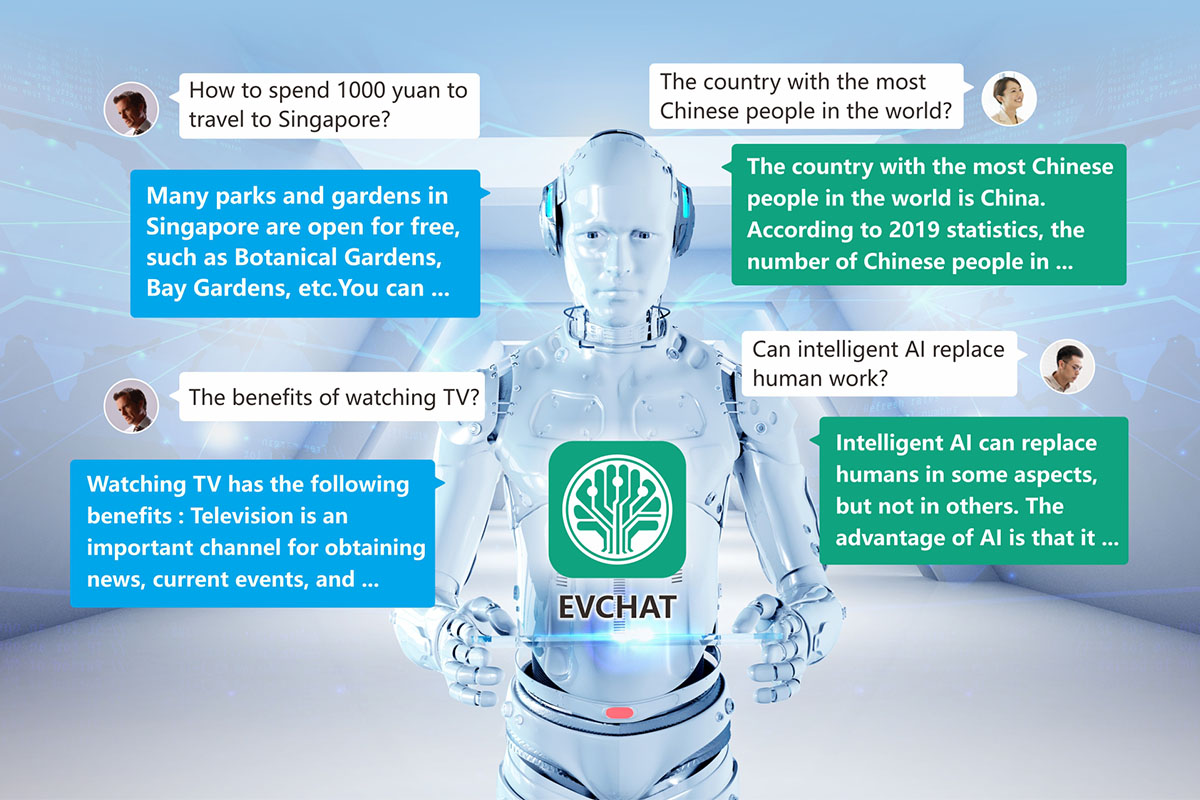 EVPAD 10P: Latest Dolby Vision 5.1, Shocking Audiovisual

▶. From now on, be at the center of the TV story with the EVPAD 10P TV Box.

When combined, Dolby Vision and Dolby Digital 5.1 offer a complete audiovisual experience. Dolby Vision enhances the visual quality of content, while Dolby Digital 5.1 delivers immersive surround sound. This combination allows viewers to enjoy high-quality audio and vibrant visuals, creating a more engaging and realistic entertainment experience.

EVPAD 10P TV box supports Dolby Vision, which means that it can deliver enhanced HDR visuals with a wider color gamut and improved contrast. Dolby Vision optimizes the picture quality of compatible content to provide a more immersive and lifelike viewing experience.
EVPAD 10P: Full-Screen Projection, Zoom In and Out Easily

▶. Through the built-in MiracastReceiver software of the EVPAD 10P TV box, you can easily realize screen projection in your home or office for leisure and entertainment.

"Full-Screen Projection" on an EVPAD 10P Smart TV box typically refers to the capability of wirelessly mirroring or casting the screen of a mobile device or computer onto the television screen, occupying the entire display area. This feature allows users to share and view the content from their smartphones, tablets, or computers on a larger screen for a more immersive experience.

By utilizing "Full-Screen Projection," users can mirror various types of content, including photos, videos, apps, presentations, and web pages, onto their TV screen. This can be particularly useful for activities such as sharing photos and videos with friends and family, playing mobile games on a bigger display, or giving presentations in a professional setting.

"Full-Screen Projection" on a smart TV box enhances the versatility and connectivity of the device by enabling seamless screen sharing and expanding the range of content that can be enjoyed on the television screen.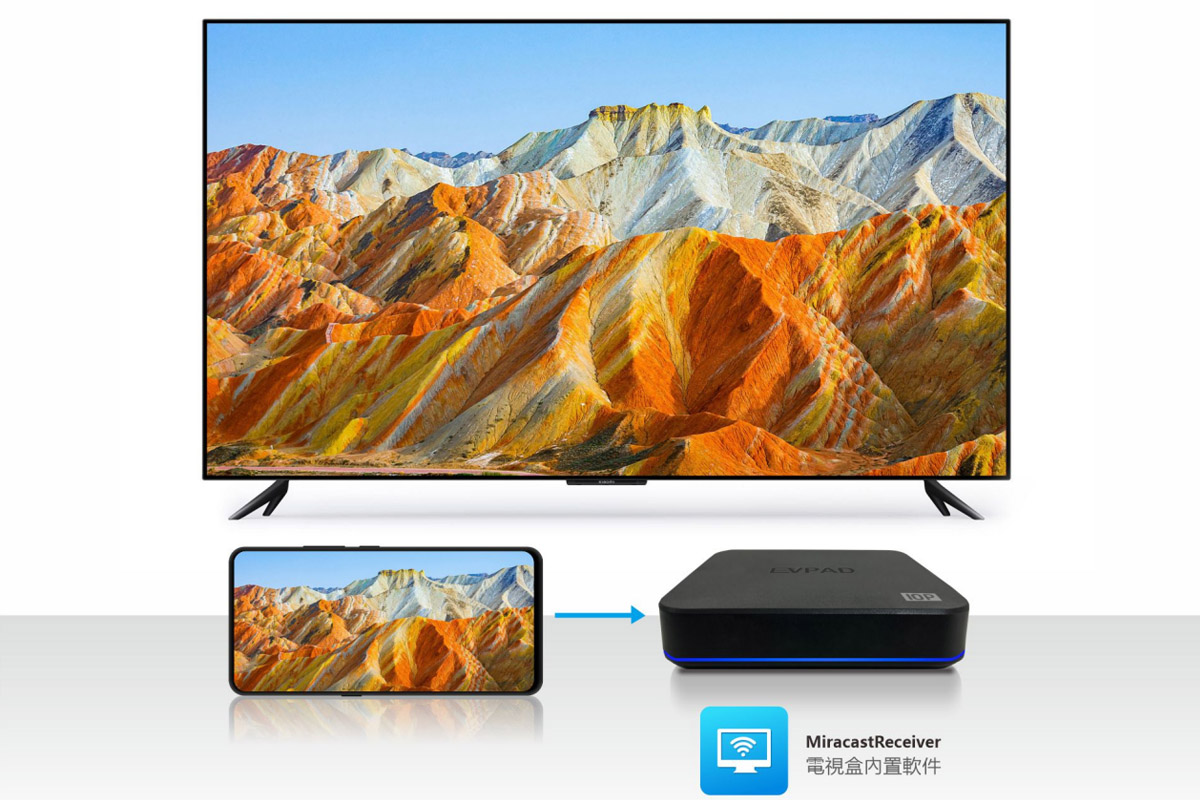 EVPAD 10P: Upgraded to Bluetooth 5.2

▶. Using a more powerful 5.2 chip, the signal is stronger, the connection is faster, the connection is continuous, and the stability is much more stable.

Bluetooth 5.2 on an EVPAD 10P Android TV box introduces advanced wireless connectivity features, enhancing the functionality and versatility of the device. With Bluetooth 5.2, you can experience seamless connections with a range of Bluetooth-enabled devices, such as headphones, speakers, keyboards, and game controllers.

Enjoy faster data transfer speeds, allowing for smoother streaming of audio and video content. Bluetooth 5.2 also provides an extended range, enabling reliable communication with Bluetooth devices even from a greater distance within your entertainment setup.

With Bluetooth 5.2 on your Smart TV box, you can enjoy the convenience of wireless connectivity, seamless device integration, improved audio quality, energy efficiency, and enhanced security. Elevate your entertainment experience and unlock a new level of connectivity with Bluetooth 5.2.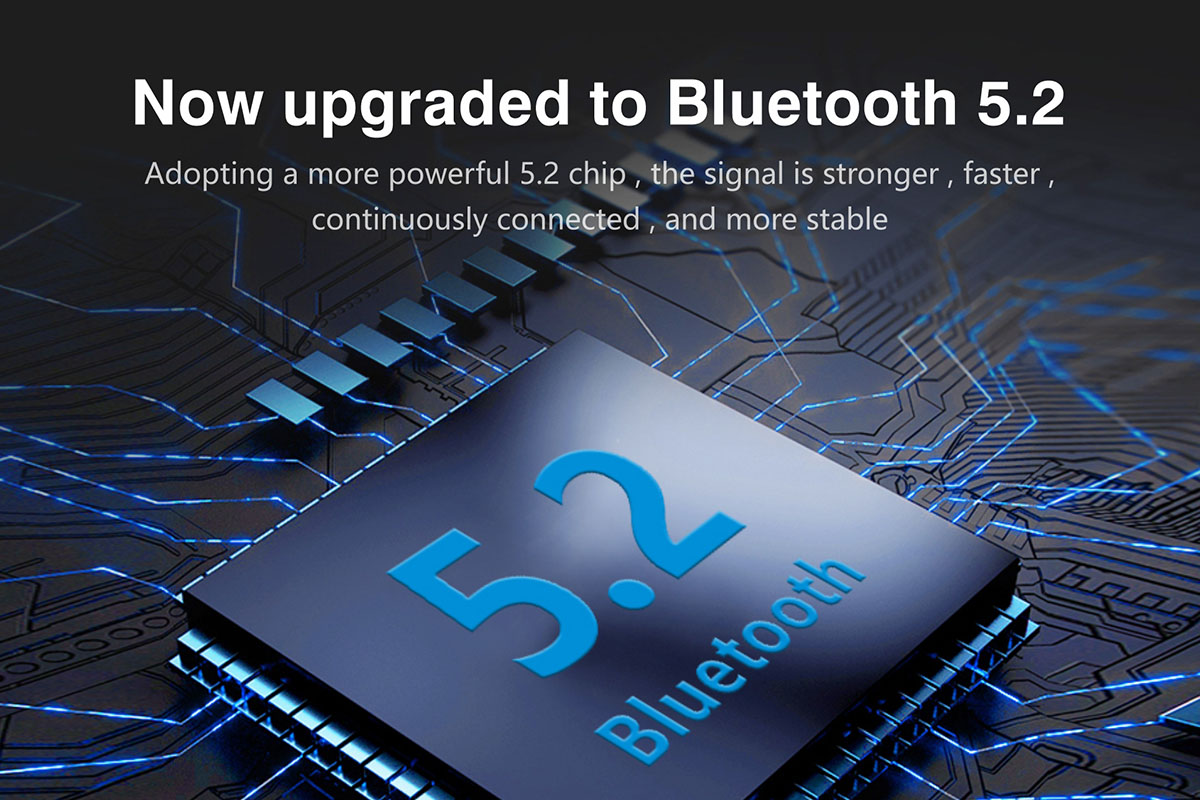 EVPAD 10P: Powerful 2.4G/5.0G 2T2R Dual-Band WIFI 6

▶. Faster network transmission, better signals and stronger performance.

With Dual-Band WiFi 6 on your EVPAD 10P Internet TV box, you can take full advantage of the latest wireless technology. Experience faster speeds, increased capacity, reduced latency, and enhanced security for a seamless and enjoyable streaming and browsing experience. Stay connected and unlock the full potential of your Smart TV box with Dual-Band WiFi 6.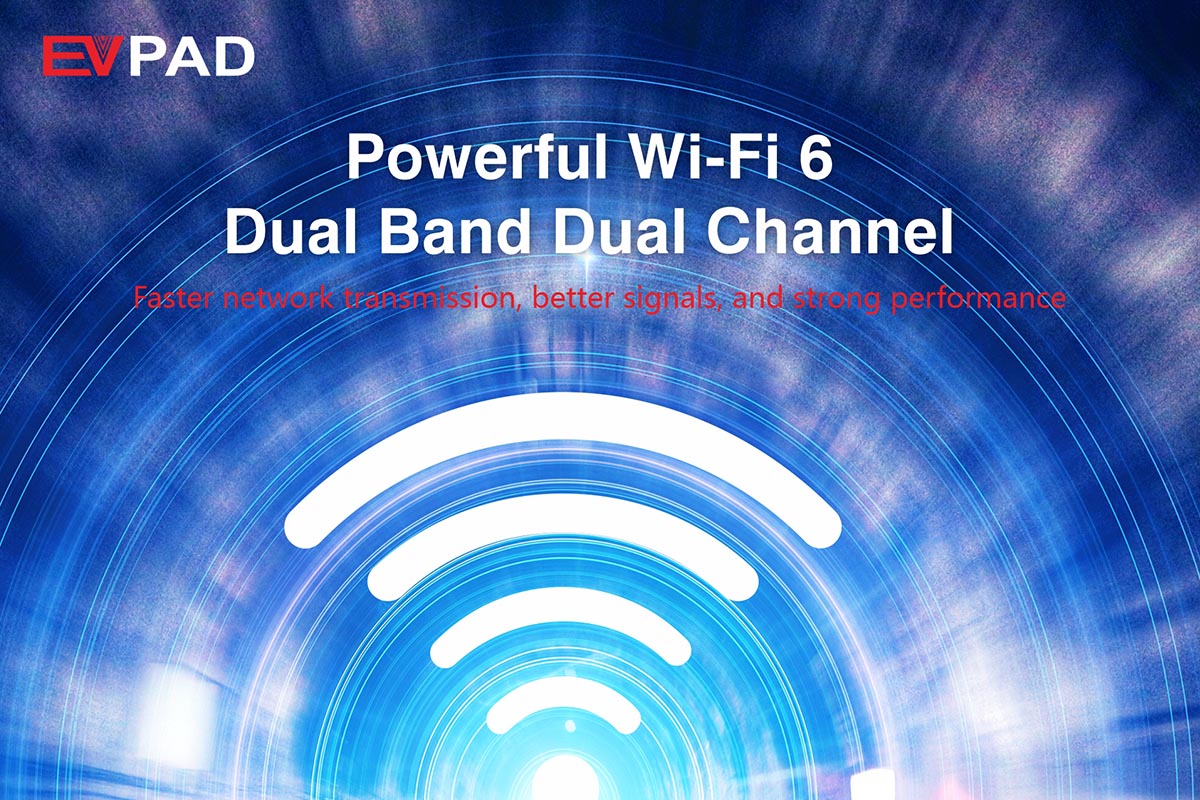 EVPAD 10P: Open New Horizons with Sound

▶. EVPAD 10P, mastering the core technology of intelligent voice.

Intelligent Voice on an EVPAD 10P HD Streaming box introduces the power of voice commands and control, enhancing the user experience and convenience. With Intelligent Voice, you can control your Smart TV box and access content effortlessly using simple voice commands.

By utilizing voice recognition technology, Intelligent Voice allows you to navigate through menus, launch apps, search for content, adjust settings, and perform various functions using just your voice. Instead of using a remote control or navigating through menus manually, you can simply speak your commands, making interaction with your Smart TV box faster and more intuitive.

Intelligent Voice understands natural language processing, enabling you to communicate with your Smart TV box in a conversational manner. You can ask questions, request specific content, control playback, and even interact with smart home devices that are compatible with your Smart TV box.

With Intelligent Voice, you can search for your favorite TV channels, movies, TV shows, or music by simply speaking the title, genre, or even an actor's name. The Smart TV box will quickly find and display relevant results, saving you time and effort.

Whether you want to change channels, adjust volume, explore apps, or get answers to your questions, Intelligent Voice on your Smart TV box offers a hands-free and intuitive way to interact with your entertainment system. Enjoy the convenience of voice control and unlock a whole new level of smart and seamless integration with your Smart TV box.
EVPAD 10P: Different Atmosphere Feeling

▶. To satisfy your individual needs, EVPAD 10P takes you to feel the charm of light and shadow.

Ambient lighting on an EVPAD 10P Entertainment TV box adds an immersive and visually appealing element to your viewing experience. With ambient lighting, the Smart TV box emits soft and adjustable light around the TV screen, enhancing the overall atmosphere and creating a more engaging environment.

Ambient lighting transforms your viewing environment, adding a captivating visual element that enhances the content on the screen. It creates a more immersive and engaging atmosphere, reduces eye strain, and adds a touch of style and sophistication to your entertainment setup. Enjoy your favorite movies, shows, and games in a whole new light with ambient lighting on your Smart TV box.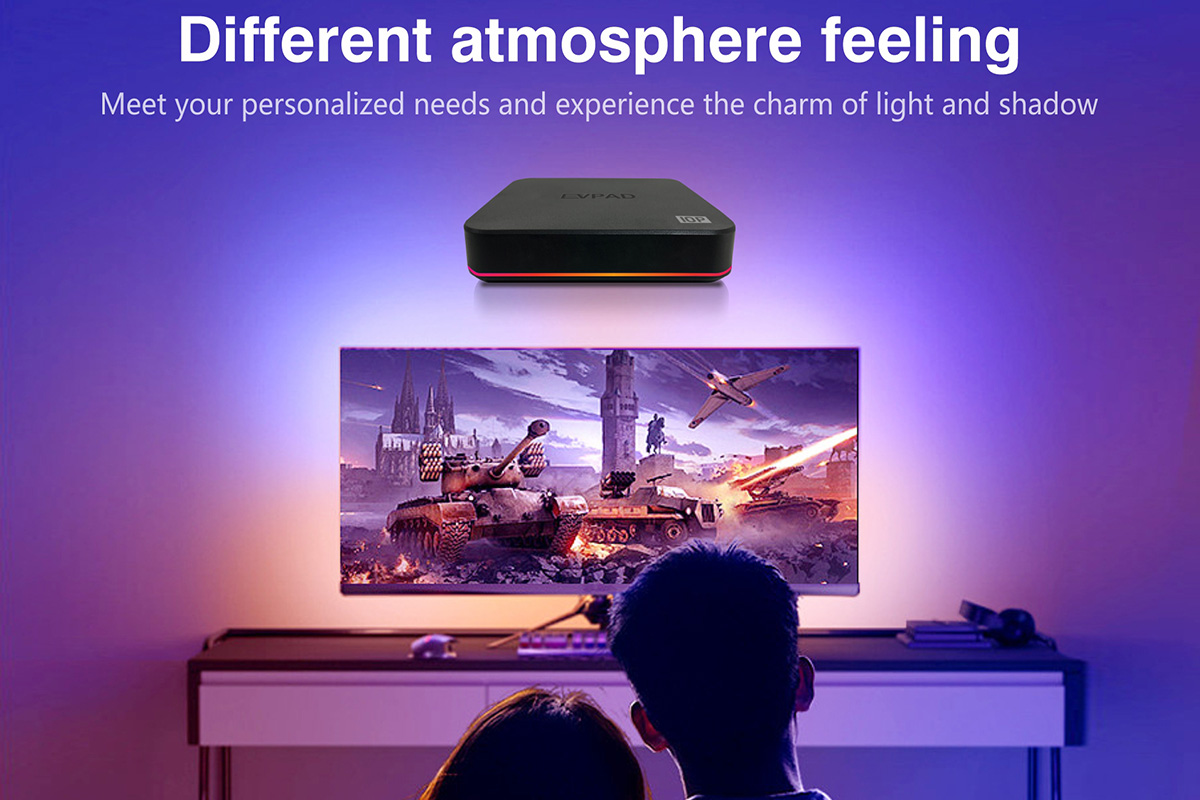 Buy EVPAD 10P Smart Voice TV Box - What Will You Get?

▶. EVPAD 10P TV box host with gift packing.
▶. HDMI cable.
▶. DC cable.
▶. EVPAD 10P remote control.
▶. An EVPAD 10P user manual.
▶. Power plug.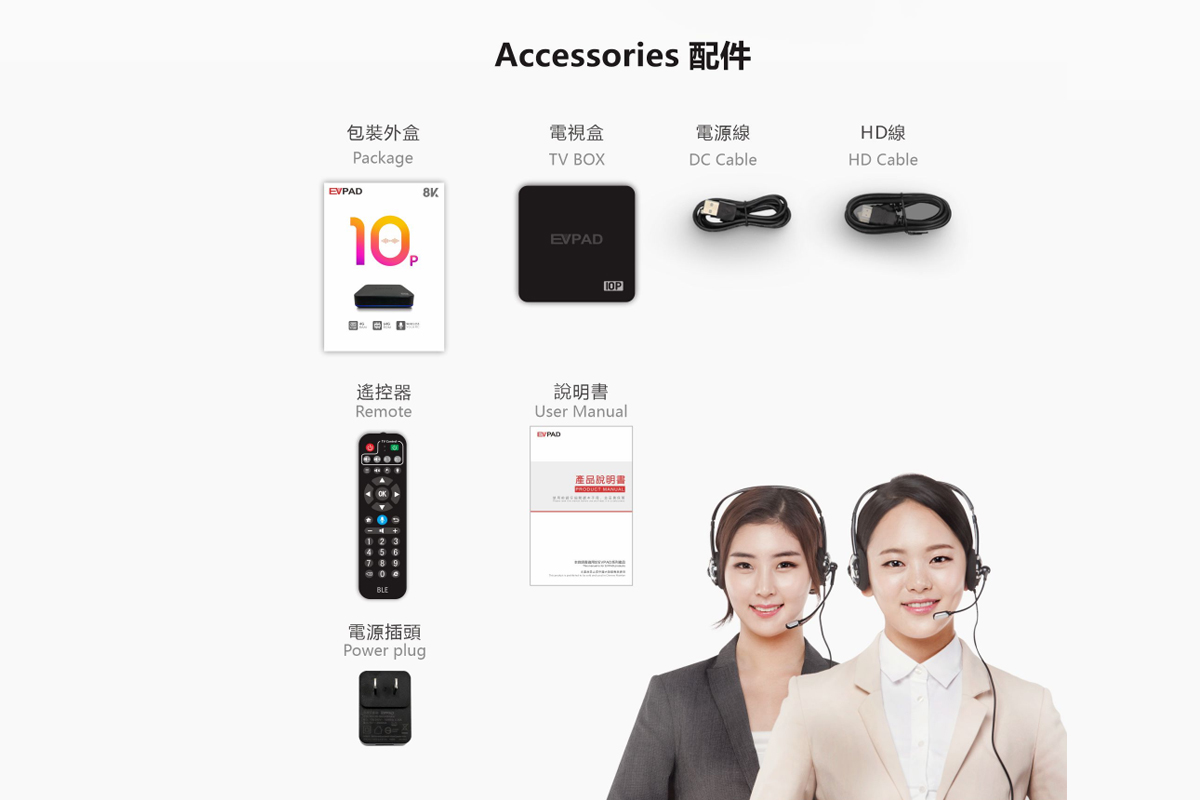 ---
EVPAD 10P: Upgraded UI System - Much More Convenient

▶. You can customize and add commonly used Apps to the main interface for quick startups, such as live TV App, VOD(Movie and TV Shows) App, Kids App, EVChat App, etc.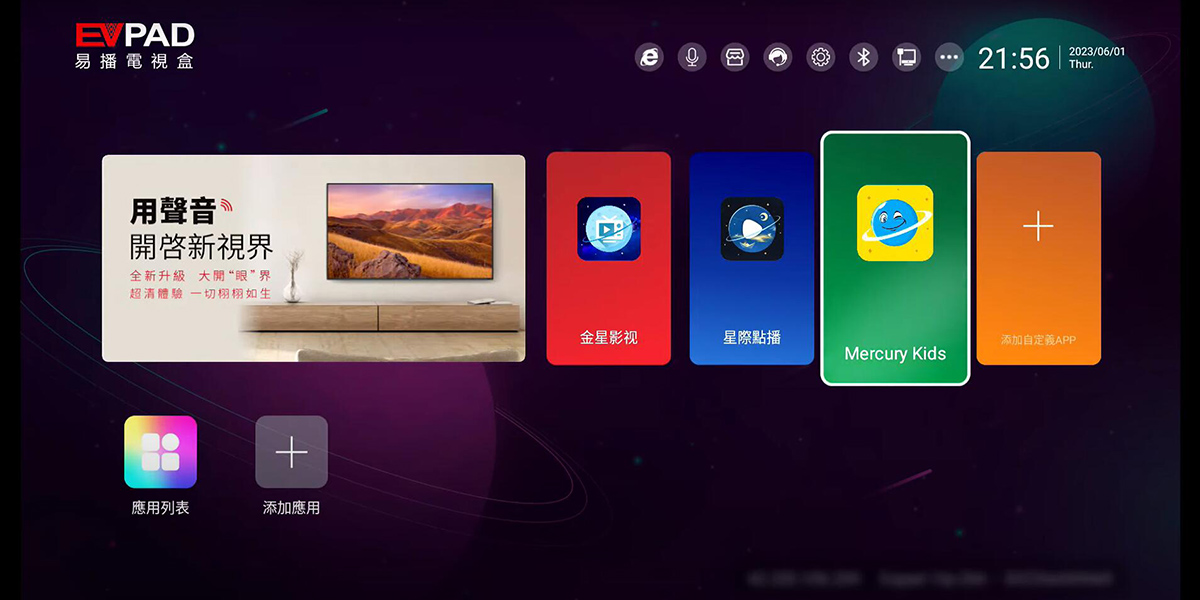 How to Setup EVPAD 10P TV Box? --- SUPER EASY!

▶. You can download and install the common Apps in minutes. Contact our customer service if you meets any questions. We'll be glad to help you.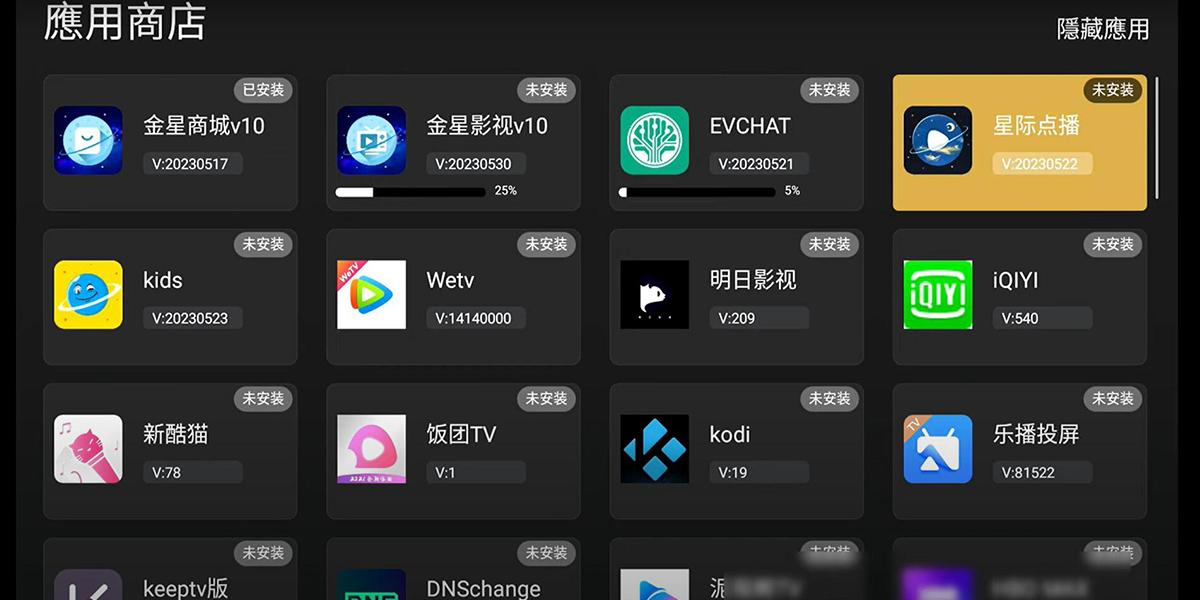 People May Ask:

What is EVPAD 10P?
How to install EVPAD 10P?
How to set up EVPAD 10P?
What is EVPAD 10P used for?
What is the difference between EVPAD 10P and EVPAD 6P?
What is the channel list of EVPAD 10P?
......

Browse the EVPAD FAQs page for more answers.
EVPAD 10P TV Box
Specifications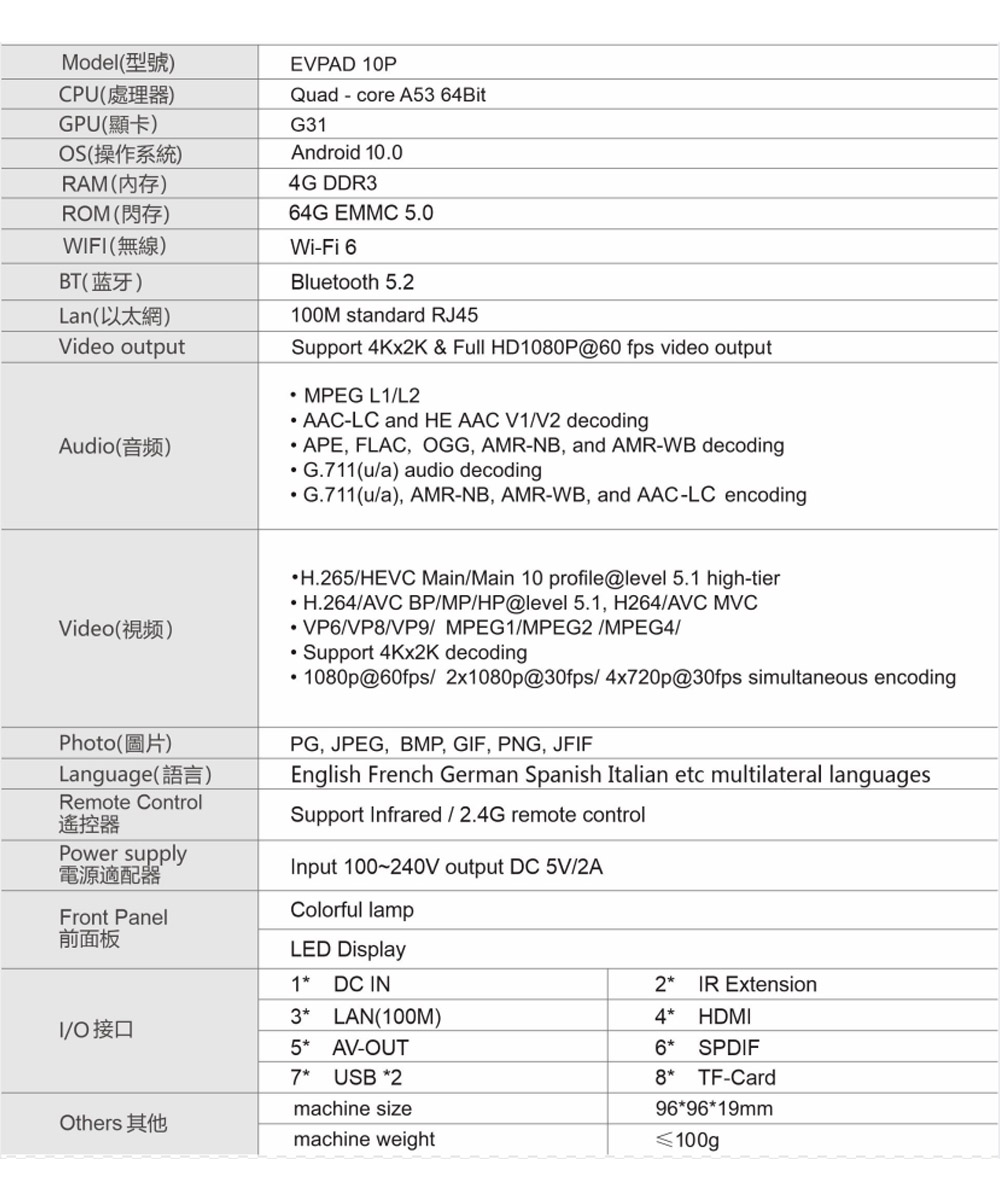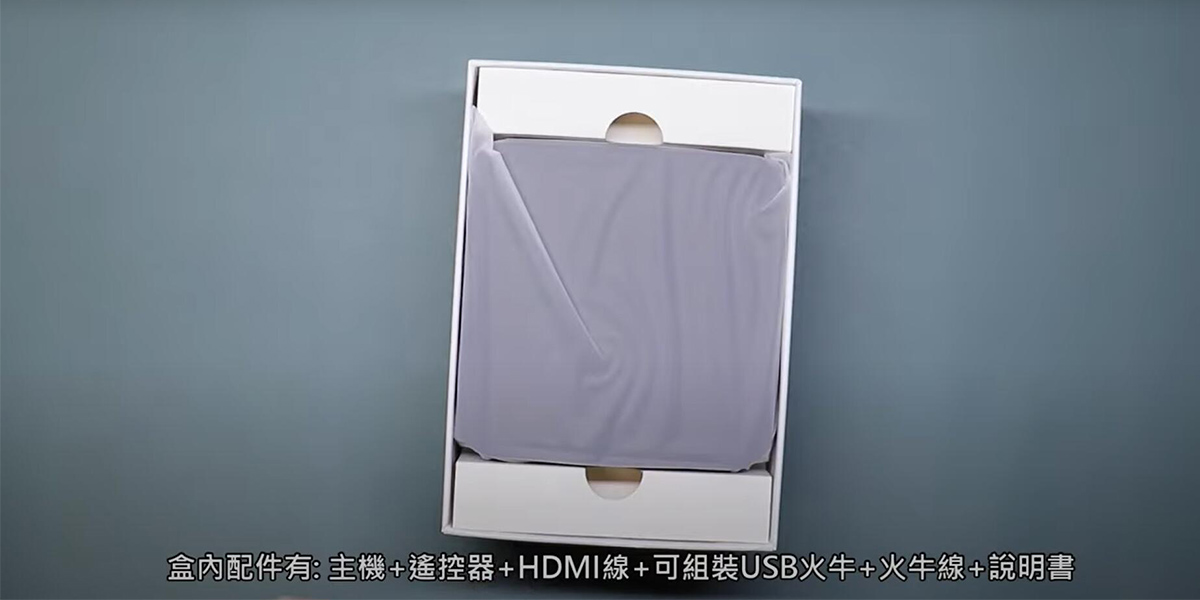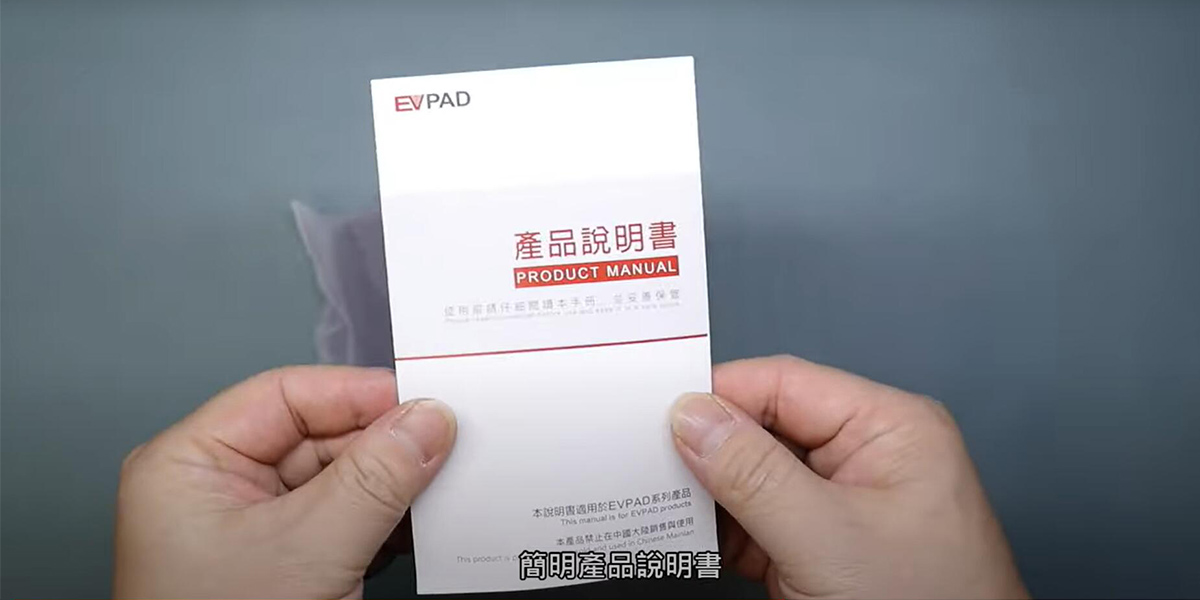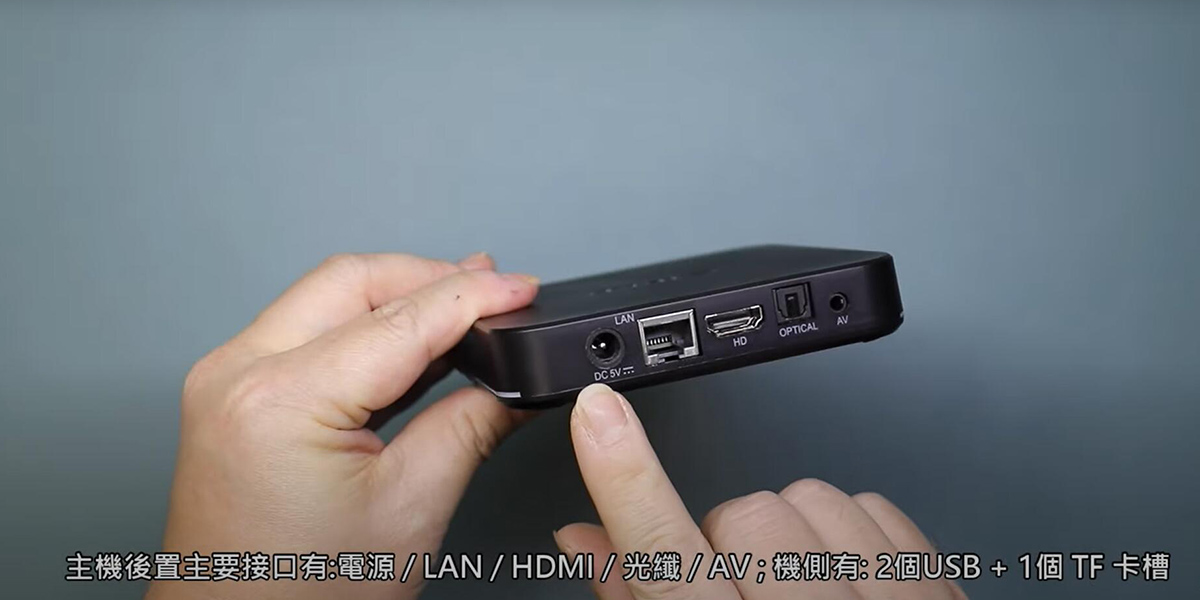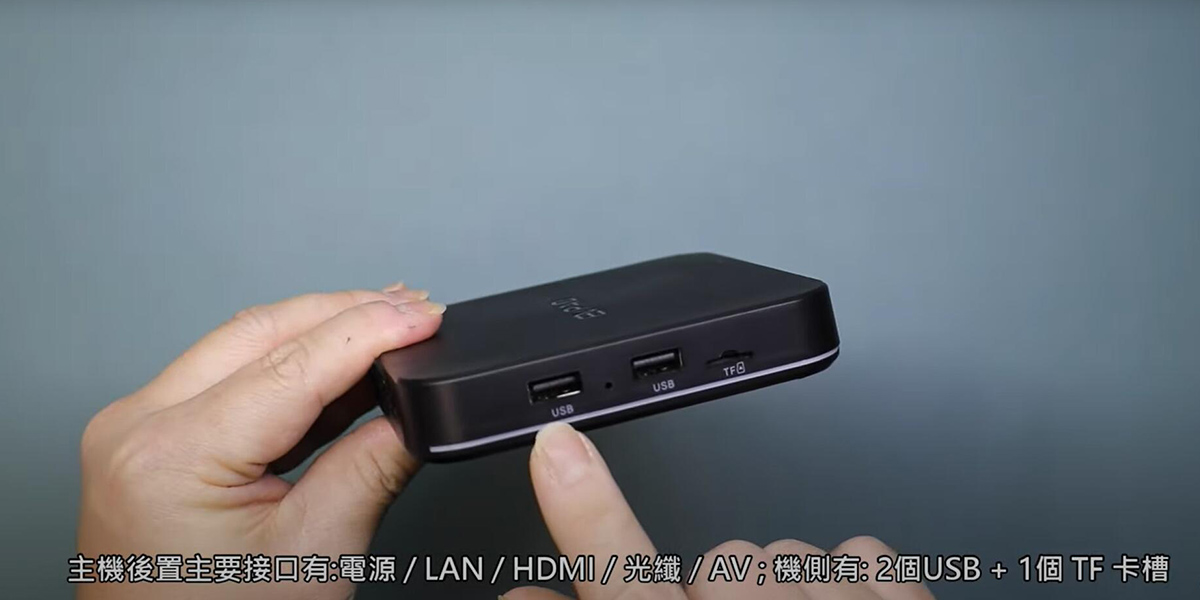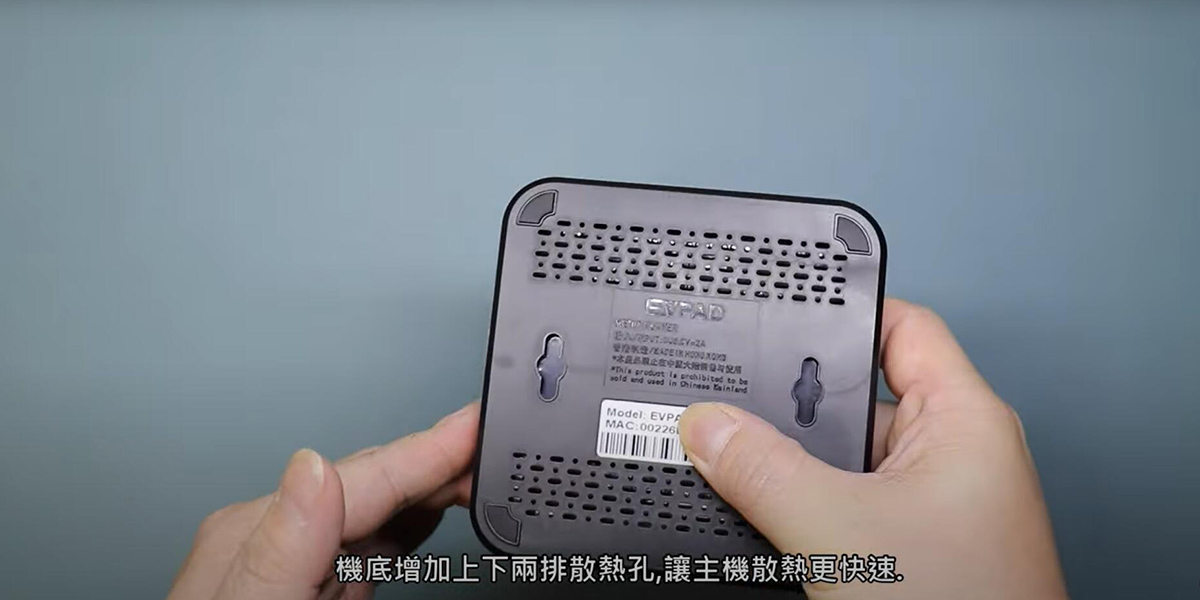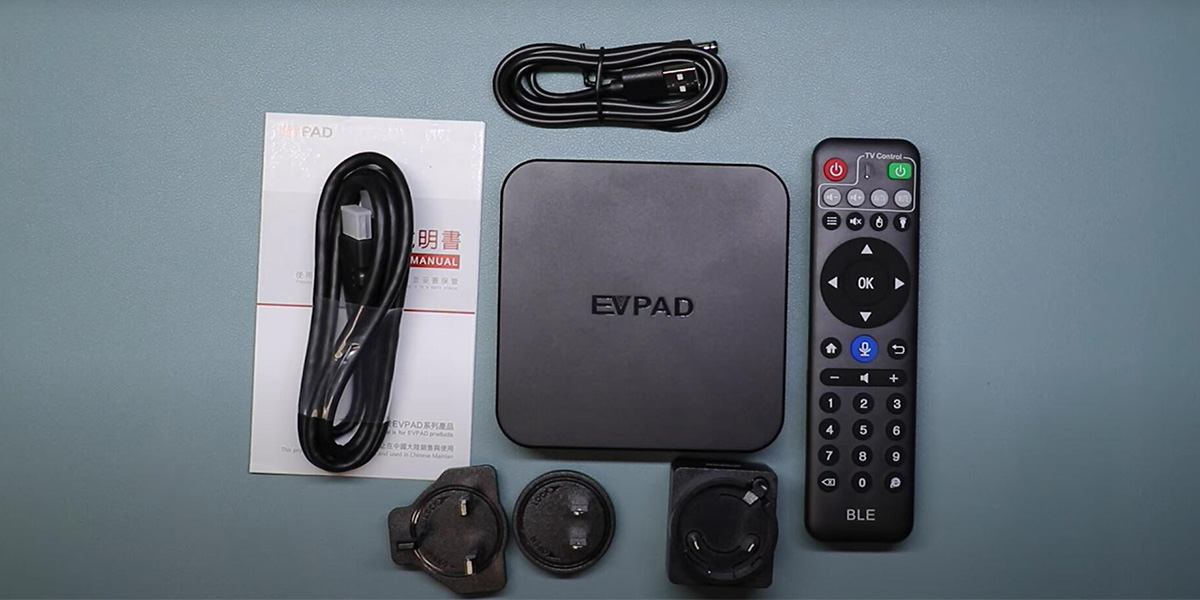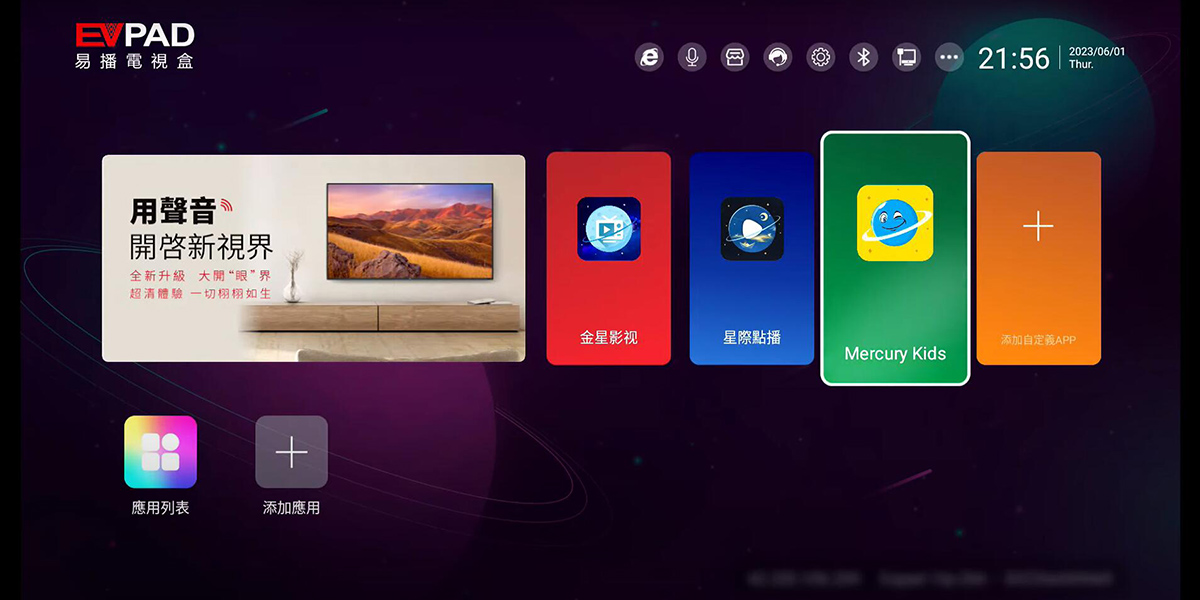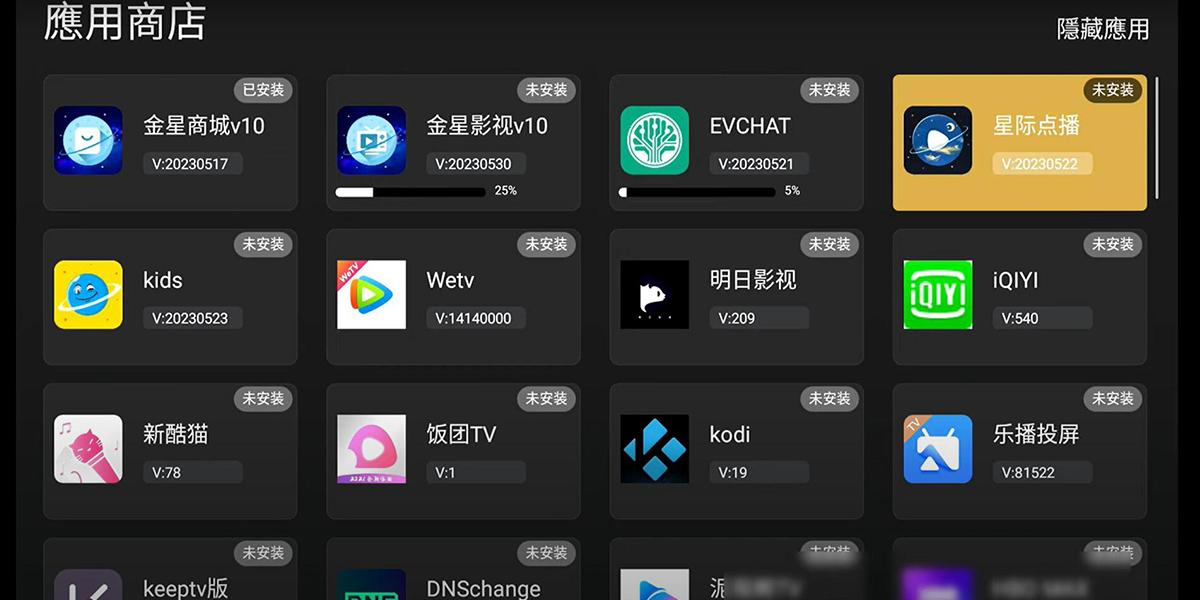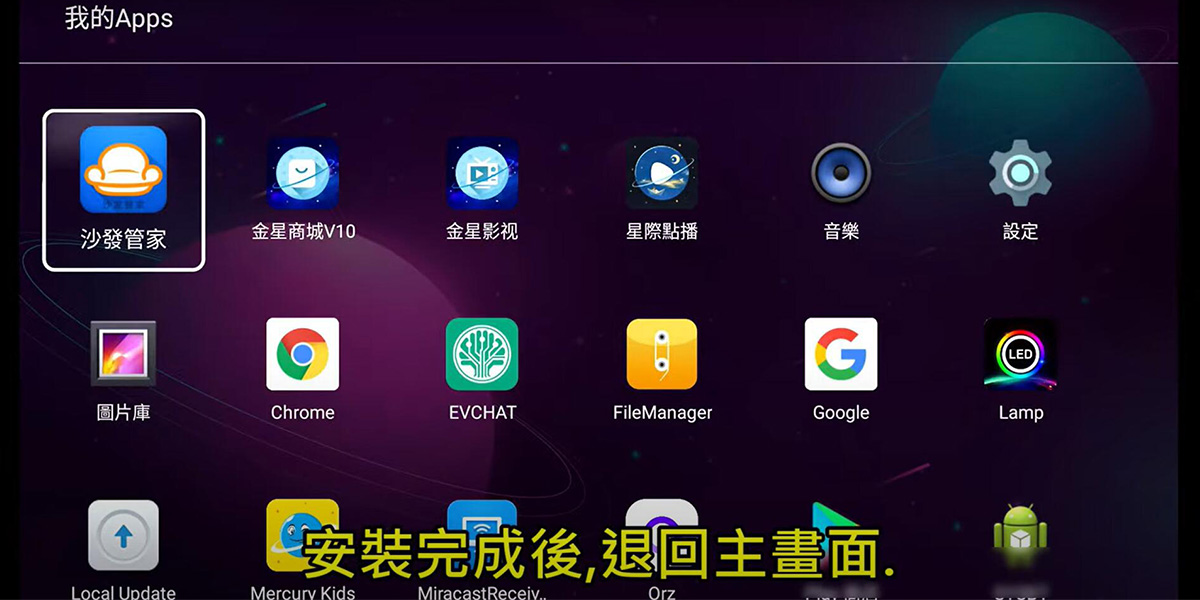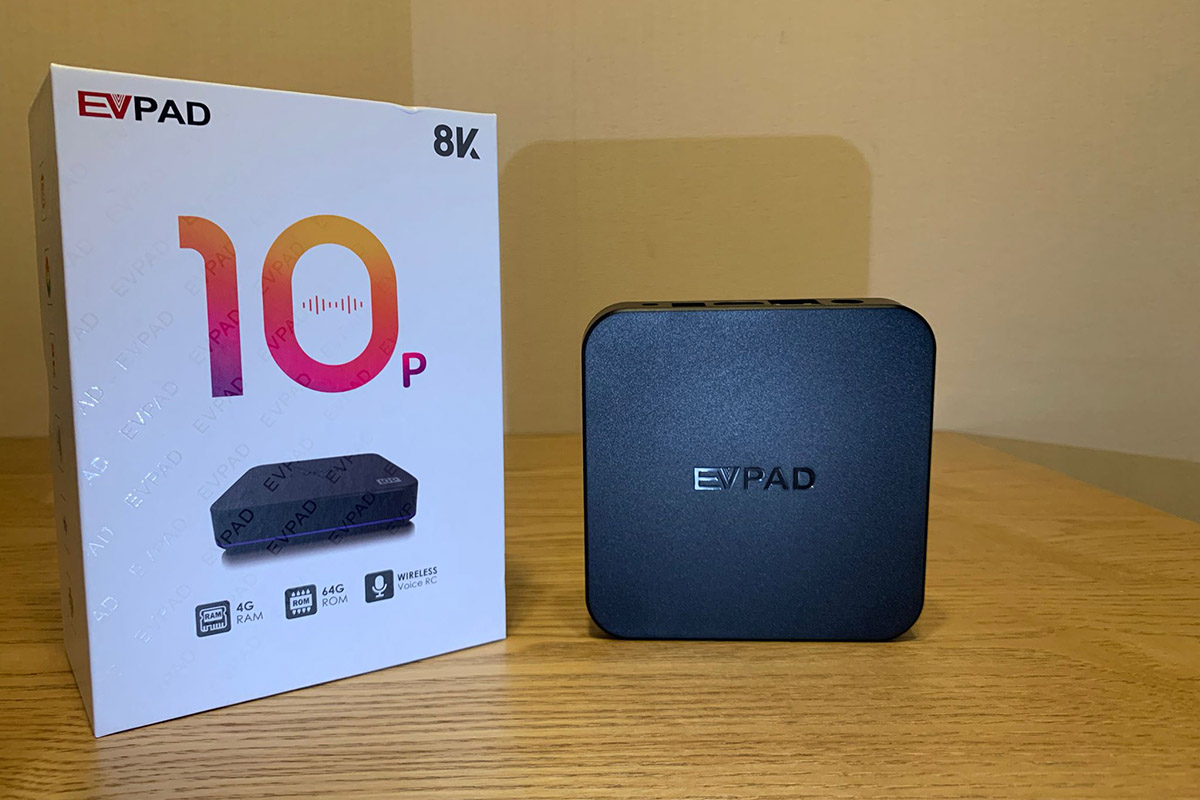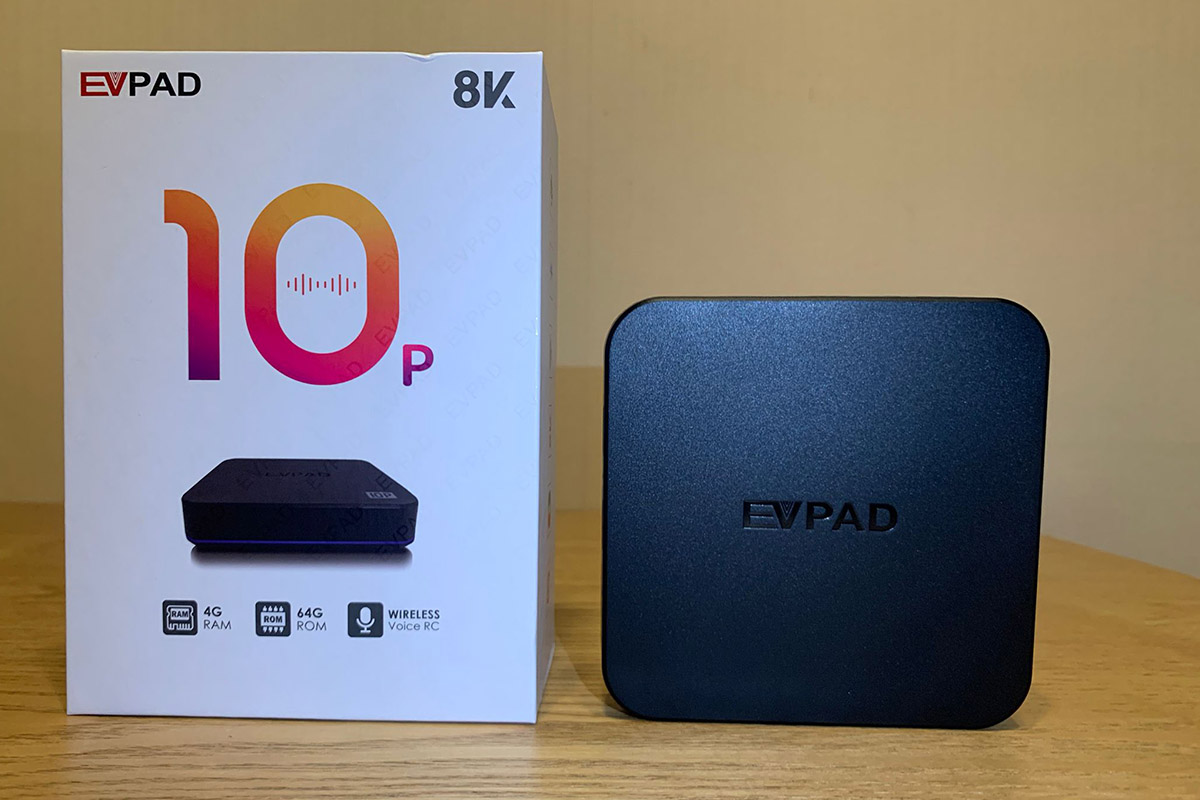 10 Advantages of Buying Android TV Box


Fantastic Smart Android TV box. You deserve it!
EVPAD, Unblock Tech, SviCloud and SuperBox for sale. Buy the original TV box on our website directly. 100% Official Authentic, More Secure, More Assured.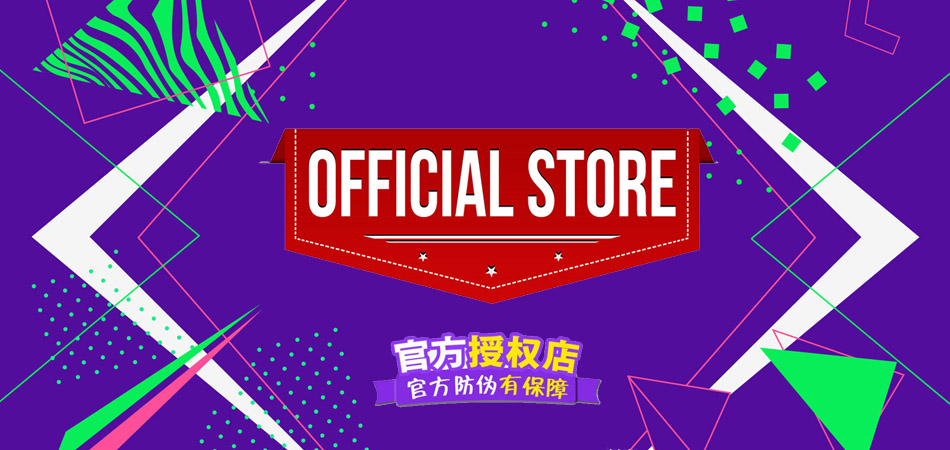 ①. Official Online Store for Android TV Box

Official Authorized Online Store for EVPAD, Unblock Tech and SviCloud. 100% Original Guarantee.
Genuine smart Android TV box for sale, 100% quality assurance, 30 days of refund, return and exchange.
Add to cart, shopping now.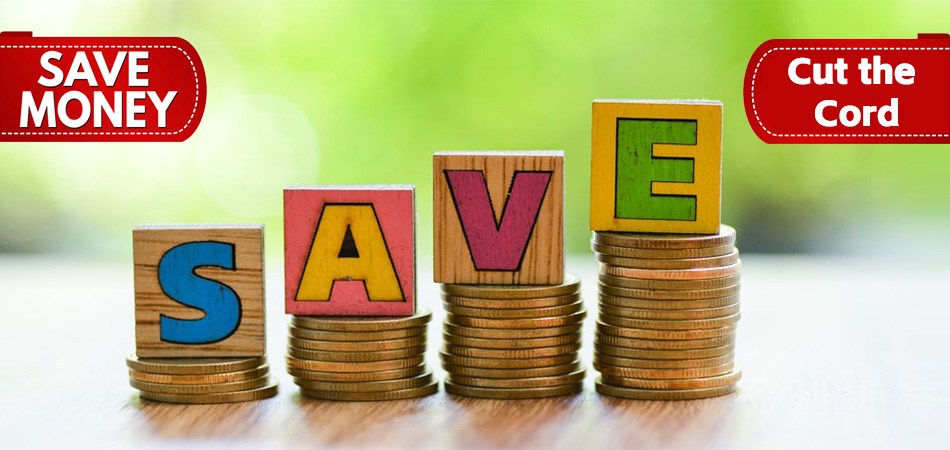 ②.
Watching by Android TV Box - Save Your Money
All exciting live TV channels, TV shows and movies are 100% free.
No monthly fees, Cut expensive cable cord, No VIP memberships needed. Only stable internet is required. Best choice for home family and journey entertainment.
Buy it once, lifetime use. Big savings.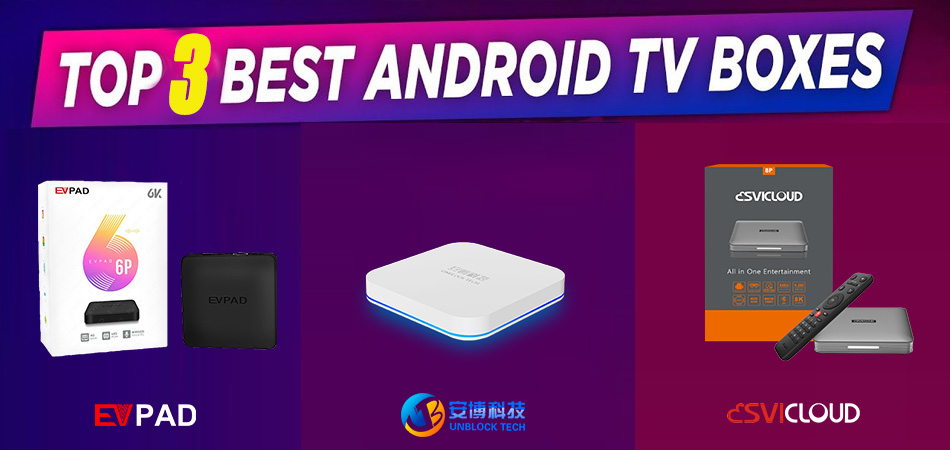 ③. Most Popular Android TV Box for Your Choose

Most popular and top-selling EVPAD TV box, Unblock Tech TV box and SviCloud TV box for sale.
Want to be our sales agent? Contact us now and we can boost your sales quickly​​​​​.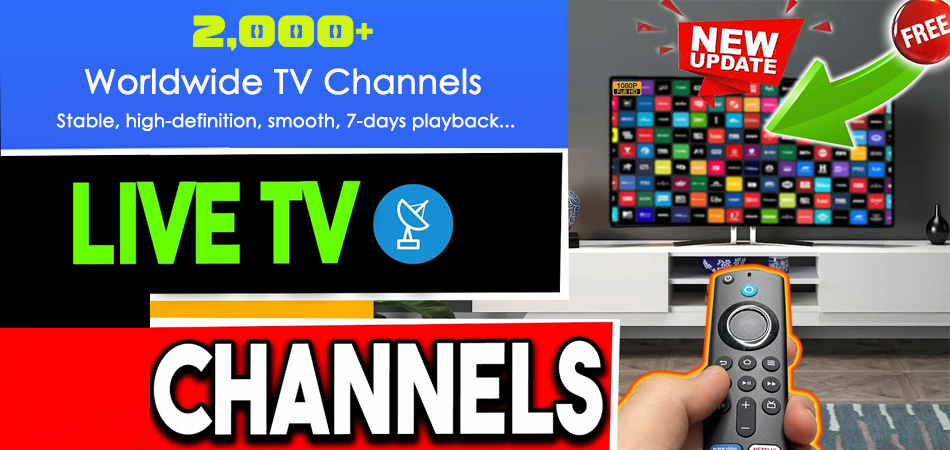 ④.
2,000+ Worldwide Live TV Channels
Global live TV Channels include Mainland China, Hong Kong, Macau, Taiwan, USA, Canada, UK, Italy, Japan, Korea, Thailand, Malaysia, Indonesia, Philippines, Singapore, Vietnam, India, etc.
Stable, high-definition, smooth and 7*24 hours playback, do not miss any exciting programs. Wonderful everywhere! All HD TV channels without buffering and freezing.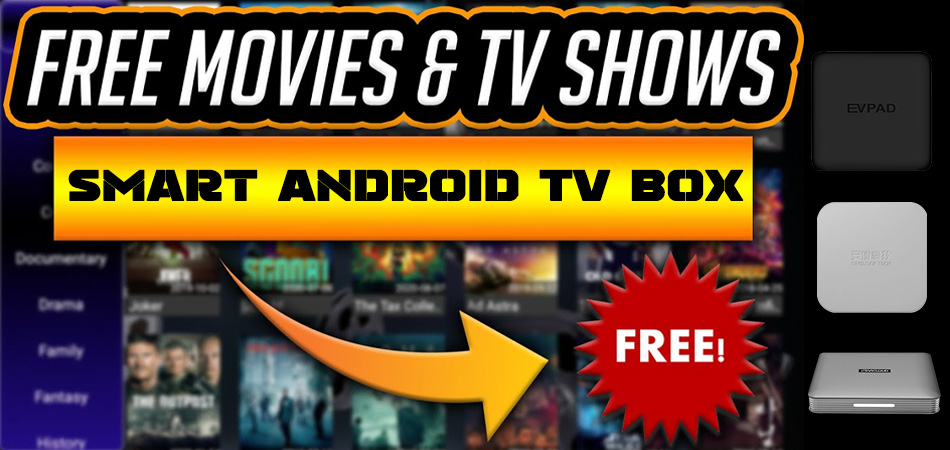 ⑤. 200,000+ Free Movies & TV Shows

200,000+ super-rich video-on-demand content, including the latest movies, classical movies and popular TV shows. Massive HD video content for you!
TV box servers will be regularly upgraded to ensure that the latest and hottest TV shows and movies are available.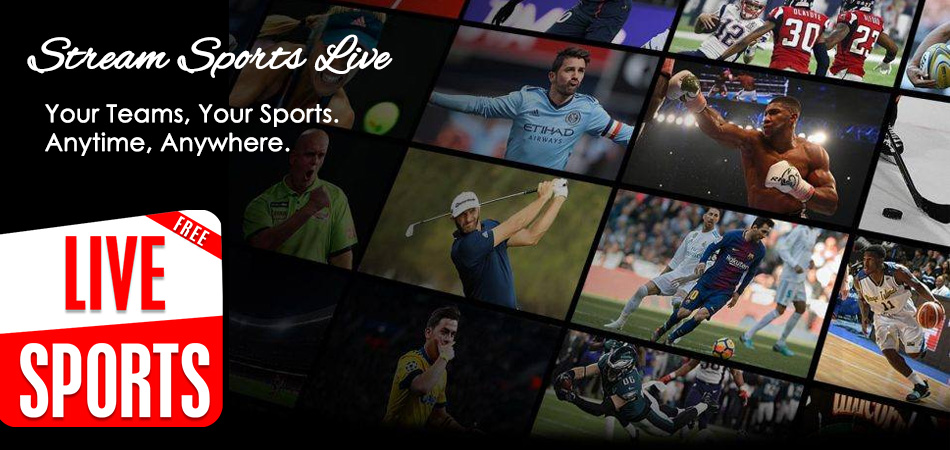 ⑥.
Stream Sports Live - Your Teams, Anytime, Anywhere
Exclusively for sports fans, All sports channels included: NBA, MBL, NFL, Football League (Premier League, La Liga, Serie A, Ligue 1, Bundesliga, Chinese Super League, Champions League, Asian Champions League, etc.), Golf, Snooker, World Cup...
You would never miss any exciting sports games with our TV box.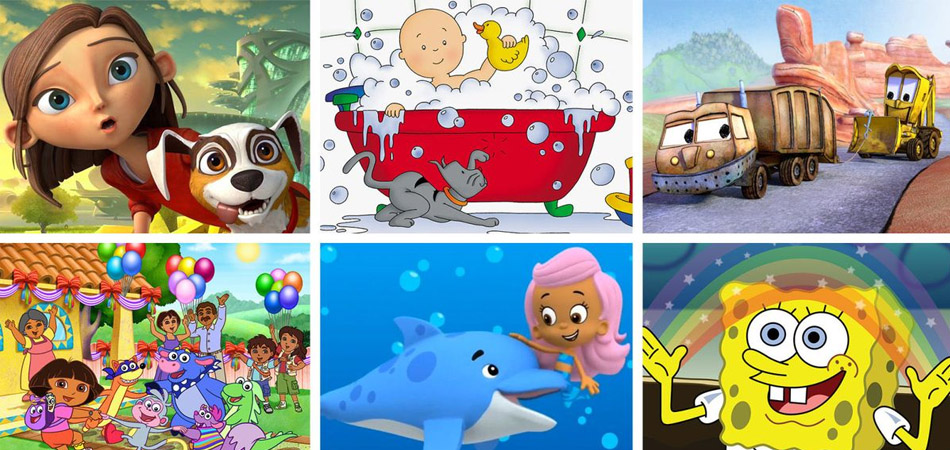 ⑦. Kids App - Best Family & Friendly TV Box

Kids TV app for Android TV box. Safe screen time for children. Perfect for preschool and elementary.
A huge number of worldwide hot cartoons and animes. Let our TV box accompany children to spend a happy childhood. All are 100% free and No membership is required.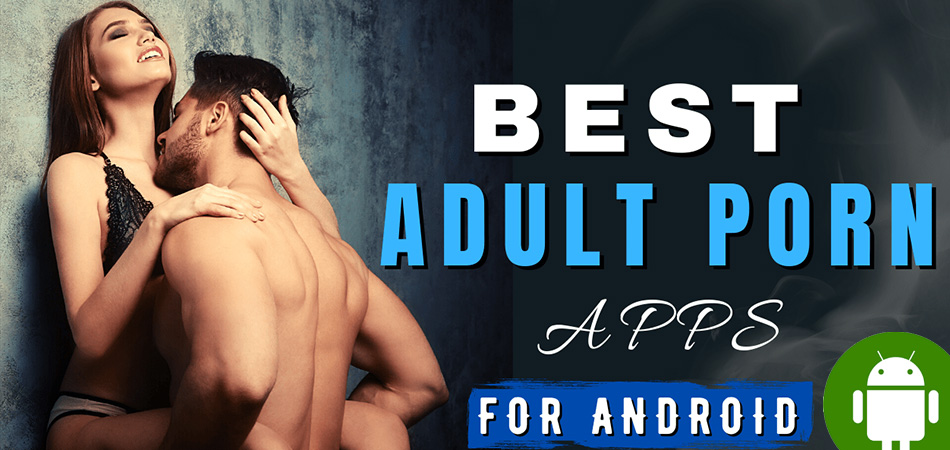 ⑧.
18+ Adult HD Live Channels Free
Plenty of worldwide adult HD TV channels to watch for free.
Password is required for adult content to prevent children from seeing adult content accidentally.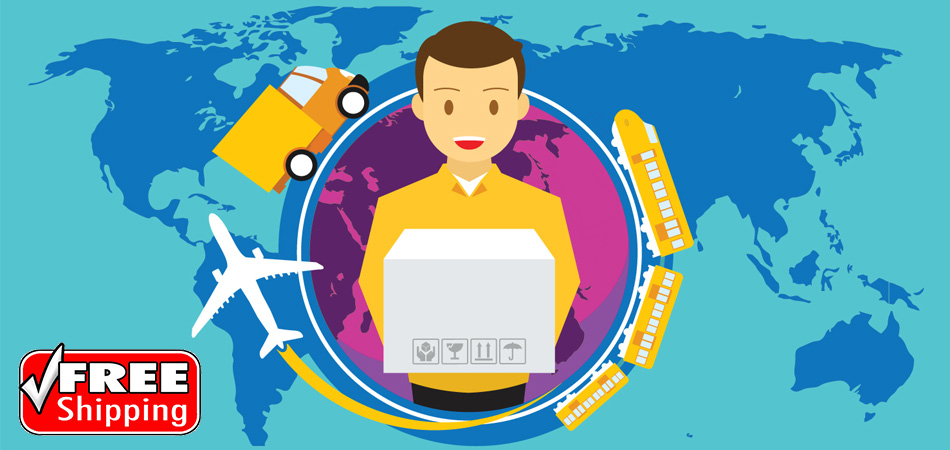 ⑨.
International Version & Worldwide

Free Shipping
We ship to 200+ countries all over the world. You could use our TV box in any country easily.
The package will be delivered from China. We'll ship by DHL, FedEx or UPS. Usually cost only 5-7 working days around the world. Enjoy Fast & Free Shipping from us.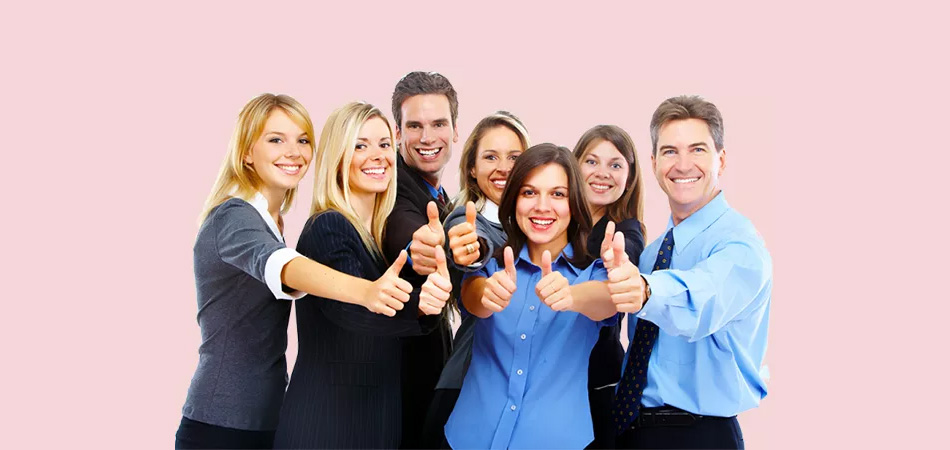 ⑩.
Professional and Reliable Pre-Sales and After-Sales
We provide One Year Warranty for all our products(The warranty period starts from the receipt of the TV box).
Official after-sales, stable IPTV service. 24*7 humanized technical support and professional customer services offer.
EVPADPro VS Other TV Box Sellers