FAQs
Below are some frequently asked questions and answers about EVPAD TV Box. If you need any assistance, please Contact Us freely. Thank you.

1. Are you EVPAD authorized seller?
Yes, We are the direct EVPAD distributor online. Please rest assured to buy from us. Please note, any EVPAD TV boxes selling from unknown websites may be fake or unauthorized boxes.
2. What's the difference between EVPAD 6P, 6S, 5P, 5S, 5 Max, 3S, 3 and 3 Max models?
Basic Summary
►
EVPAD 6P
:
4GB
RAM
, 64GB
ROM, Android 10, New App UI NEW 2021
►
EVPAD 6S
:
2GB
RAM
, 32GB
ROM, Android 10, New App UI NEW 2021
►
EVPAD 5S
:
2GB
RAM
, 16GB
ROM, Android 10, New App UI NEW 2020
►
EVPAD 5P
:
4GB
RAM
, 32GB
ROM, Android 10, New App UI NEW 2020
►
EVPAD 5 Max
:
4GB
RAM
, 128GB
ROM, Android 10, New App UI NEW 2020
►
EVBOX 5 Pro
:
2GB
RAM
, 32GB
ROM, Android 10, New App UI NEW 2020
►
EVBOX 5 Max
:
4GB
RAM
, 64GB
ROM, Android 10, New App UI NEW 2020
►
EVPAD Gen3
is out of stock.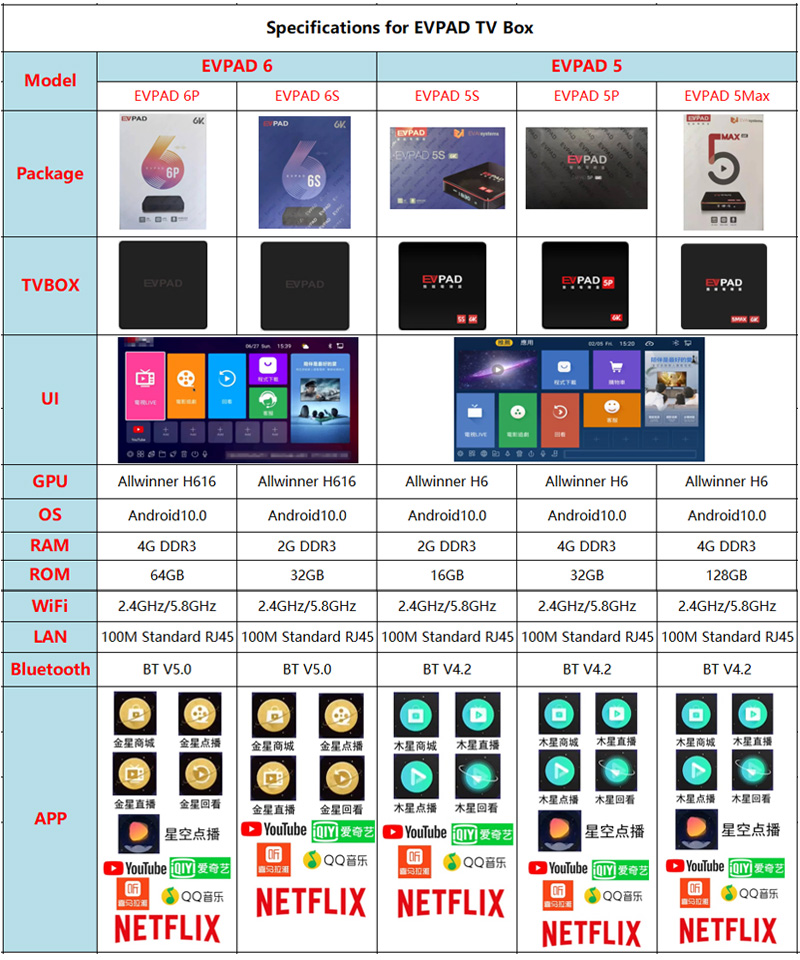 3. How to get Start? - User Guide?
Plugin your power cable with your EVPAD, Connect WiFi or LAN cable.
4. Does the device has Google Playstore?
Yes, all EVPADs device has Google Playstore and we do include KODI addons too.
5. What is the internet requirement needed?
Recommended Internet service with unlimited quota 5mbs or above eg. UniFi/Maxis Fibre/Time Fibre….
6. Do you have English UI?
Yes, in fact, you can choose from more than 71 languages (English, Malay, Chinese, Viet, Thai, Deutsch, French, Filipino and etc.)
7. Can I watch this IPTV in my country?
Yes, as long you have a stable internet connection except for China. It can be used normally in other countries around the world.
Including the USA, UK, Australia, Canada, Hong Kong, Vietnam, Indonesia, Thailand, Malaysia, Japan, South Korea, etc.
8. How about an after-sales warranty?
We provide hardware one and a harf year warranty with 1 to 1 exchange.
9. Where can I buy an EVPAD TV box online?
EVPADPro
is the official website online sales of EVPAD, please rest assured to buy. We providing all series of EVPAD products, Buy the latest EVPAD from our online store.
10. How do you install an EVPAD TV box?
Connect your EVPAD TV box to your TV.
Connect the TV box to a network using a wired (Ethernet) or wireless (WiFi) connection.
Start installing apps and watch your favorite TV shows and movies on demand.
11. How does an EVPAD TV box work?
An EVPAD TV box allows users to view digital content, such as TV programs and movies, on televisions, engage with digital entertainment, and much more.

To enable your EVPAD TV box, simply hook it up to a TV using an HDMI cable and then connect it to the Internet via WiFi or Ethernet cable. After that, you can start installing apps and then stream your favorite TV shows and movies.
12. How do you update the firmware on an EVPAD TV box?
To update your EVPAD Pro or EVPAD 2S+ to the latest firmware version, select System Update which is usually found under All Apps.
13. How to find your MAC number?
You can find the MAC number on the back of the TVBox. Or view the MAC number in the upper right corner of the TVBox interface after booting. If you have any questions, please contact our customer service.
14. Is it legal to use EVPAD?
Not breaking the law. As long as it is not broadcast in public places.
15. What is the App for the adult channel?
Peach VOD, Red Lips Live (Set your own p/w)
16. Is it safe to shop on your website?
Yes, it's safe to shop our TV box online via VISA/MasterCard Credit Card, Paypal, or Western Union. We have integrated PayPal, a well-known third-party payment system, and you have never received the product after payment. You can maintain your consumer rights through PayPal.
17. How long will it take to ship after placing an order on the website?
When the staff receives the order, they will arrange the stocking and inspection immediately, usually within three working days. It may be delayed in the holiday.
18. After receiving the product, what should I do if I find a quality problem?
Before the product is sent out, the staff will check the goods. Usually, there is no quality problem, but if you really encounter the above problems, please contact us immediately:
WhatsApp: +852 5178 1233,
Email:
[email protected]
.
19. Where can I find the express tracking information?
After delivery, we will send the tracking number to your contact information.
20. I got my EVPAD TV box, but it is empty, how can I download the App?
On the homepage, enter "6868" on the remote control, and an interface will pop up after a while, click download to complete the download.
21. The Android version of my EVPAD is 7.0, can I upgrade to Android 10.0?
Sorry. At present, the manufacturer does not provide the service of upgrading the Android version, and it is not possible to upgrade to Android 10.0. If this service is provided in the future, you will be notified as soon as possible.
22. What is the difference between 5max and 6P?
1. One is the top 5th generation flagship machine, with the highest configuration of memory, hardware, and others.

2. 6P is an overall optimization on the basis of 5P. Both UI and voice recognition have undergone major optimization, and there are some differences in the use of hardware.
23. Can the subtitle be adjusted?
The subtitles of live and on-demand channels cannot be adjusted. The subtitles of the movie can be adjusted manually, and occasionally the subtitles may not correspond to each other. But it is not necessary to adjust subtitles for every movie.
24. Do we need to pay customs duties?
Customs clearance is a random inspection by the customs. There is a small probability of being spot-checked, and when we ship the goods, the price written on the invoice is very low, so the cost of customs clearance is also relatively low.
26. What should I do if the hidden application appears 701?
You can try to connect to your mobile phone hot spot.
27. What should I do if EVPAD keeps restarting after connecting to WiFi?
Please restore the EVPAD to factory settings.
28. I can't watch many TV programs on my EVPAD3 generation, sometimes the display is wrong, and some App applications become very stuck.
The Android and hardware versions of the EVPAD3 generation are relatively low, the system and applications are constantly being updated, but the hardware configuration is still relatively old, which will cause some compatibility problems. After using it for a long time, the machine will have a certain amount of wear and tear, and it is normal to change the card.
29. What's the main difference between EVPAD "S" series, "P" series?