Attention please:

Compared with EVPAD 6P, there are no USA, Canada, UK, and Indonesia TV channels in EVPAD 6S(Other functions are the same).

So we strongly recommended you order the latest EVPAD 6P if you need the above 4 countries channels. If you don't mind, this EVPAD 6S is very cost-effective.


---


EVPAD 6S Free TV Box - 2021 New Generation Smart TV Box with AI Assistant

A Smart Assistant for The Smart Home. EVAI assistant, know you better with listening.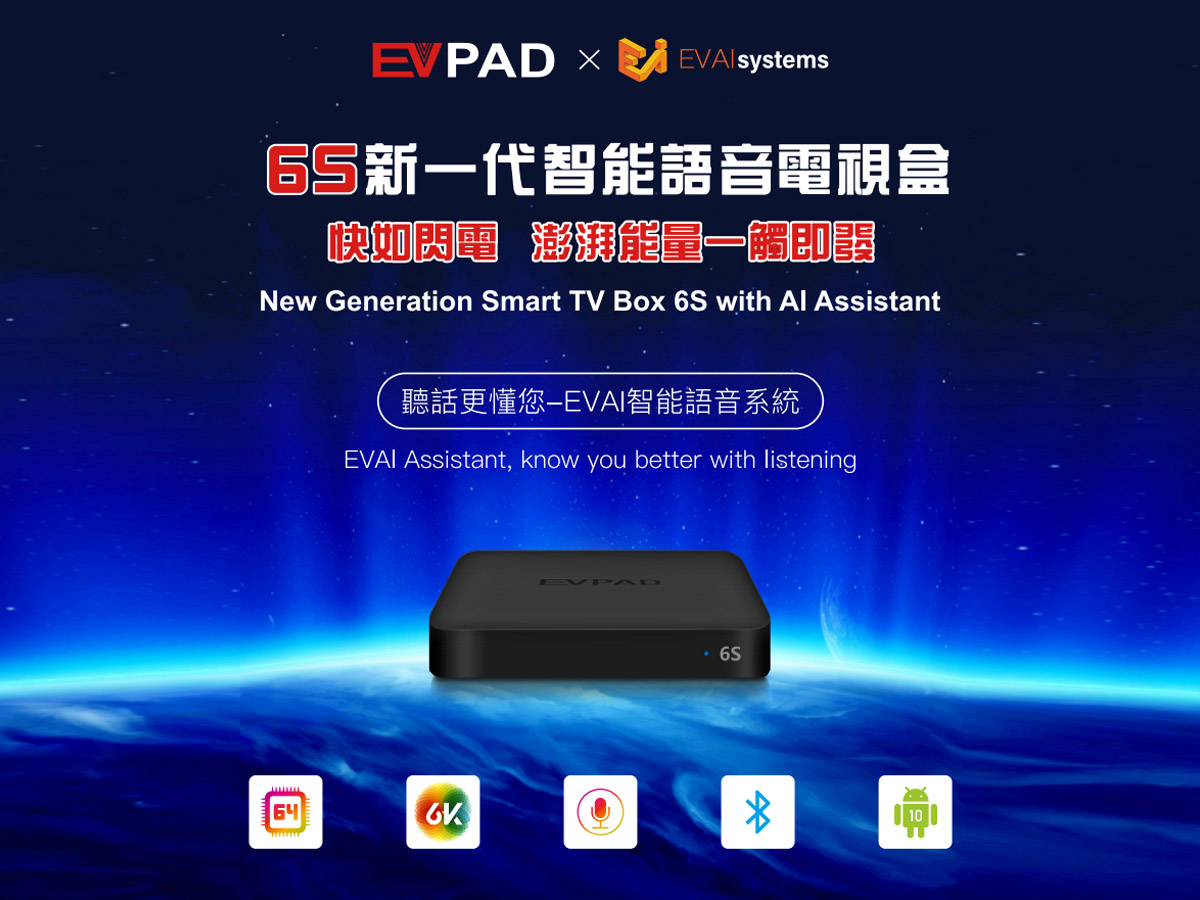 ​​​​​​
| | | |
| --- | --- | --- |
| EVAI Smart Voice | 360° All-Round Remote Control | Live TV Broadcast |
| Movie On Demand | Movies Watched 7 Days Ago | Customer Service |
EVPAD 6S TV Box - EVUI 6.0
EVUI 6.0 deep optimization presents a more stable, smoother and easier to use performance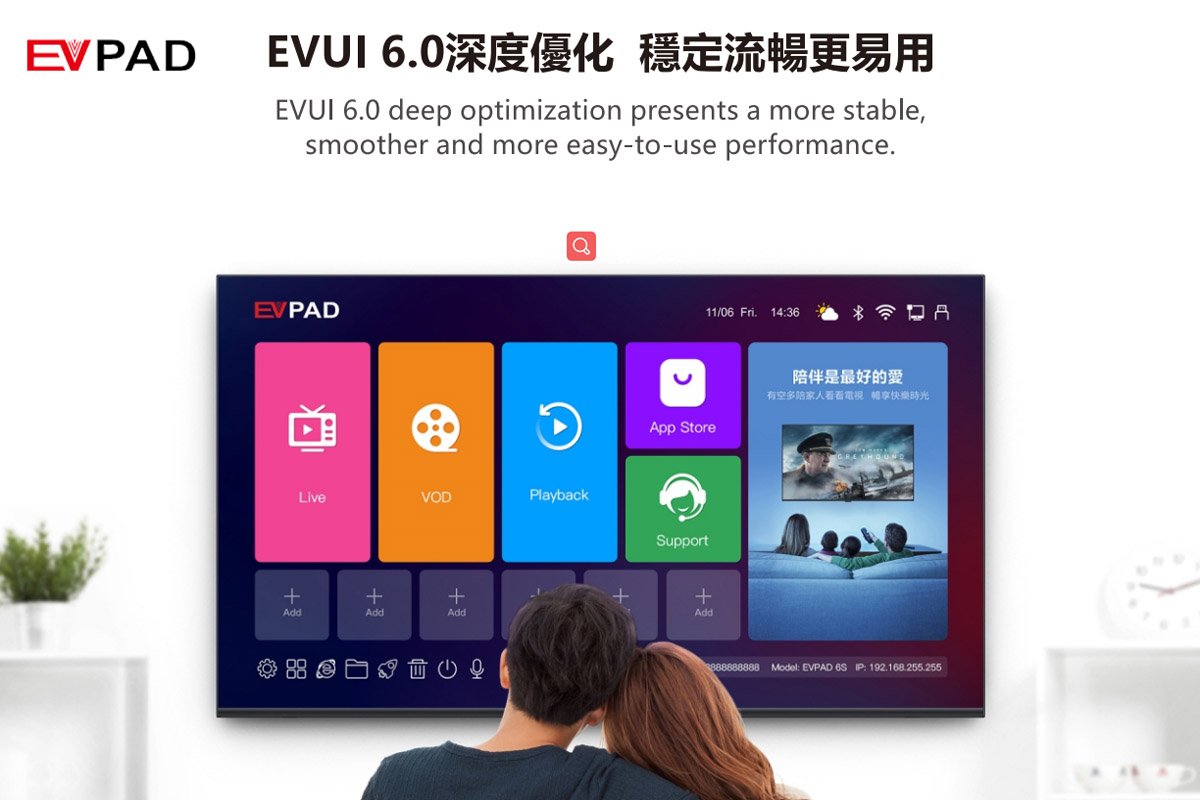 EVPAD Gen 6S STB - Android 10.0
EVPAD 6S is powered by Android 10.0, easy to use and supports voice search and delivering a world of content the whole family can enjoy.
An EVAI Voice EVPAD 6S - A Smart Assistant for Smart Home
With the EVAI assistant and the 360 omnidirectional voice RC, you can quickly play movies, watch TV channels and listen to music around your home.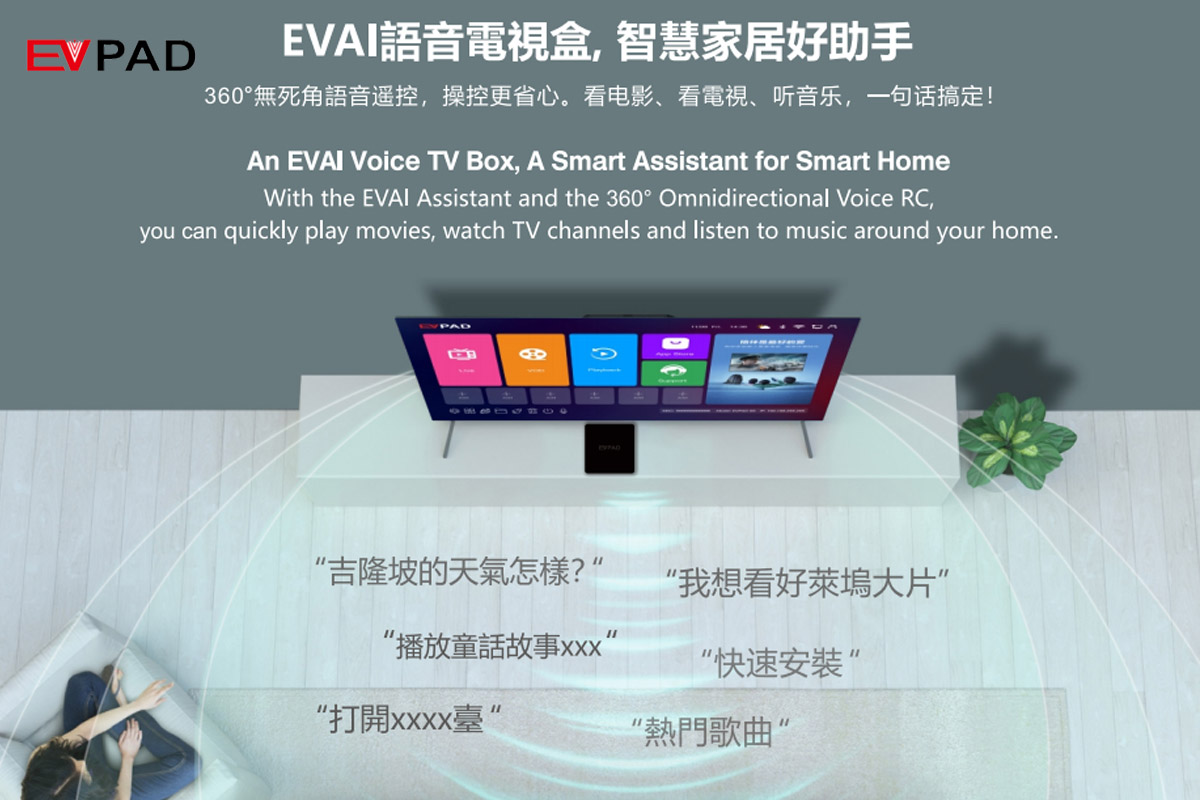 A Powerful Processor Specially Designed for EVPAD 6S TV Box
Equipped with the Cortex-A53 64-bit processor, the flagship TV box is capable of running smoothly and stably.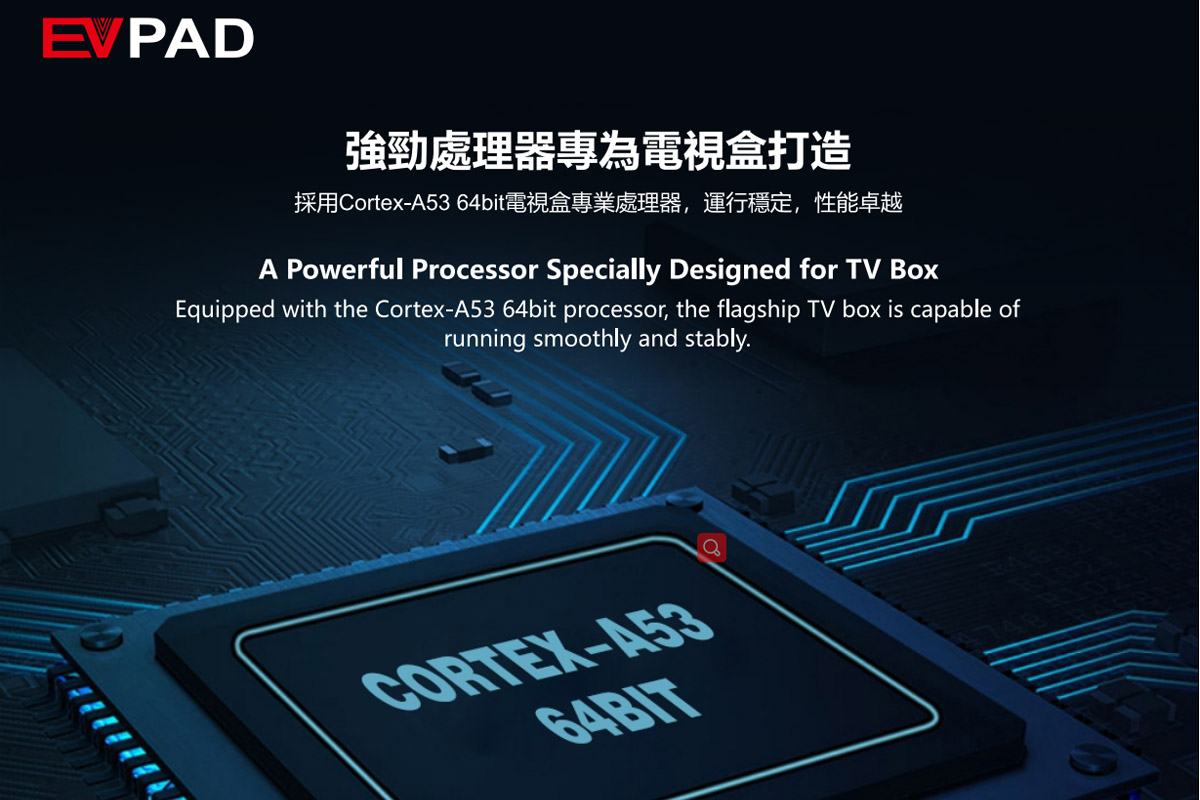 6K Video Decoding Makes An Ultra-Clear Visual Feast
With EVPAD 6S Smart TV Box, just enjoy an ultra-high-definition, lifelike viewing experience thanks to the 6K video decoding capability.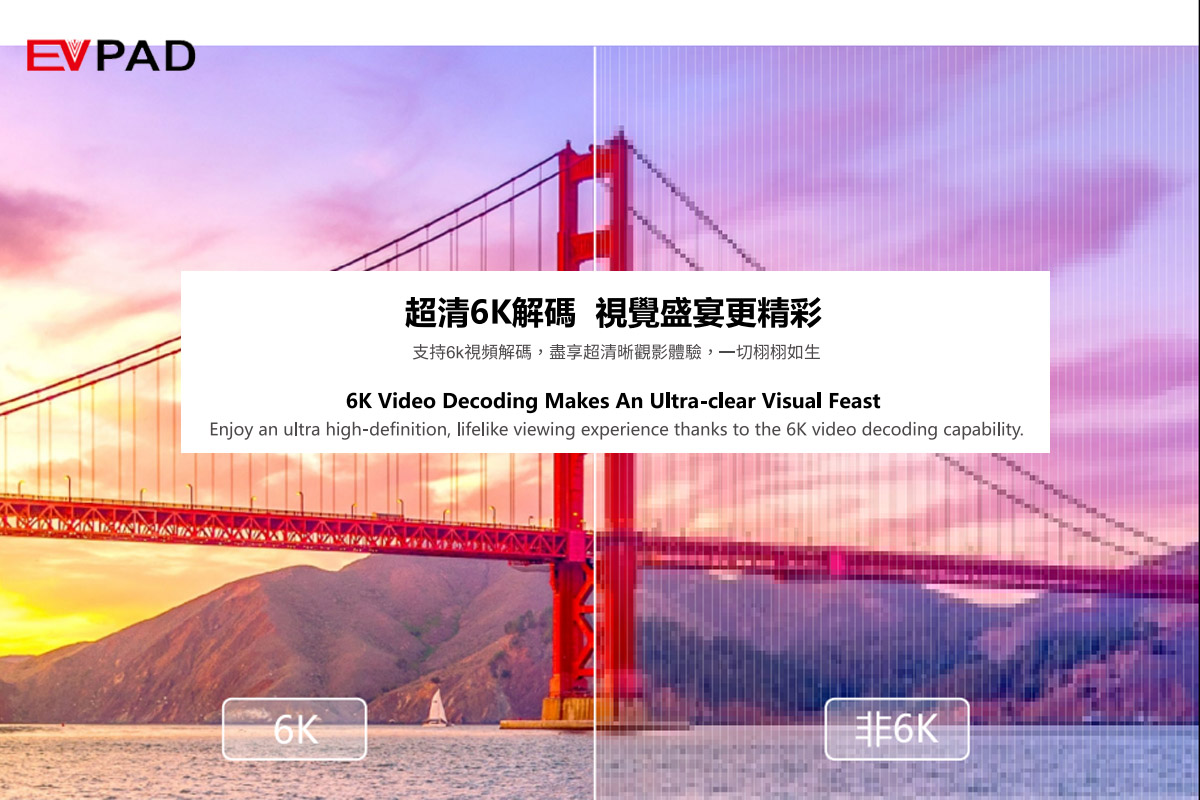 6S EVAI Remote Control for Smartphone
Scan the QR code to download the "Smart Genie" App, turn your mobile phone into a voice remote control, automatically connect, support mobile remote control, mobile phone voice control and other functions, without the need for remote control, you can also voice control your TV.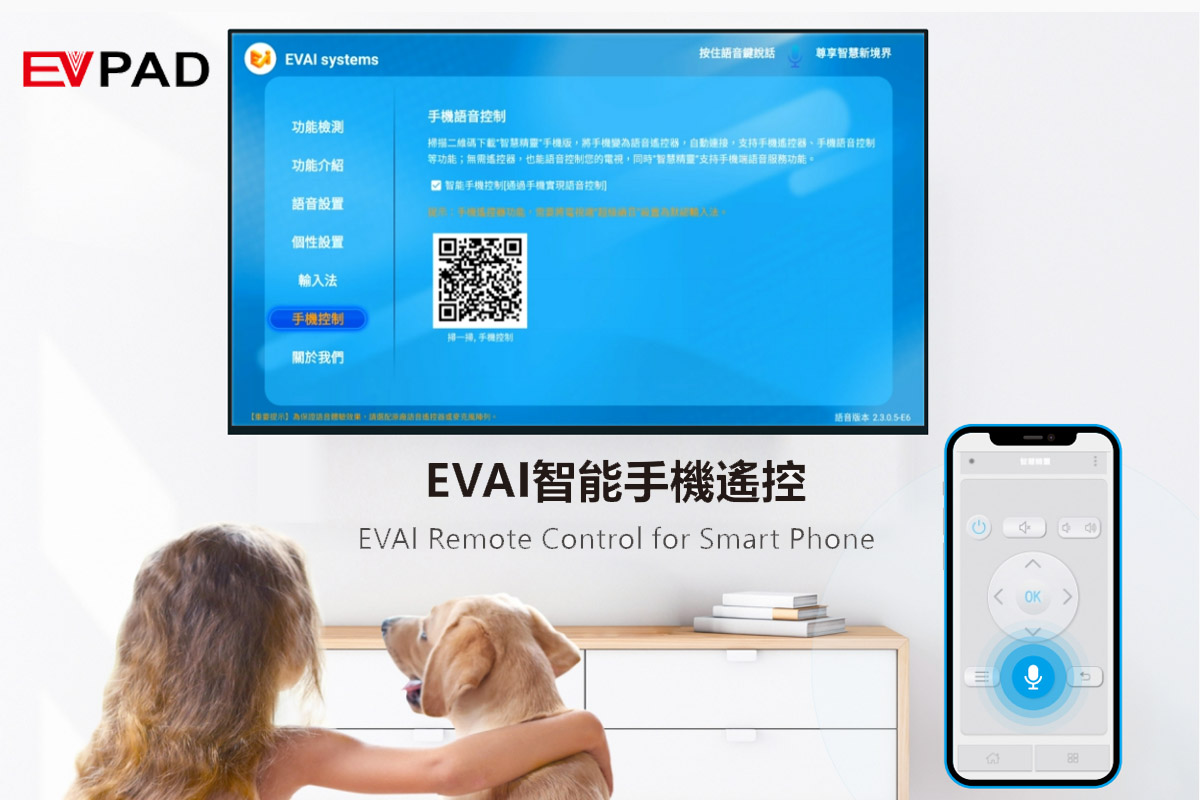 EVPAD TV BOX 6P IPTV Box - High-Performance Storage Capacity 2G RAM + 32G ROM
Install tons of awesome apps, watch extended cuts and play more games while enjoying faster performance and stability.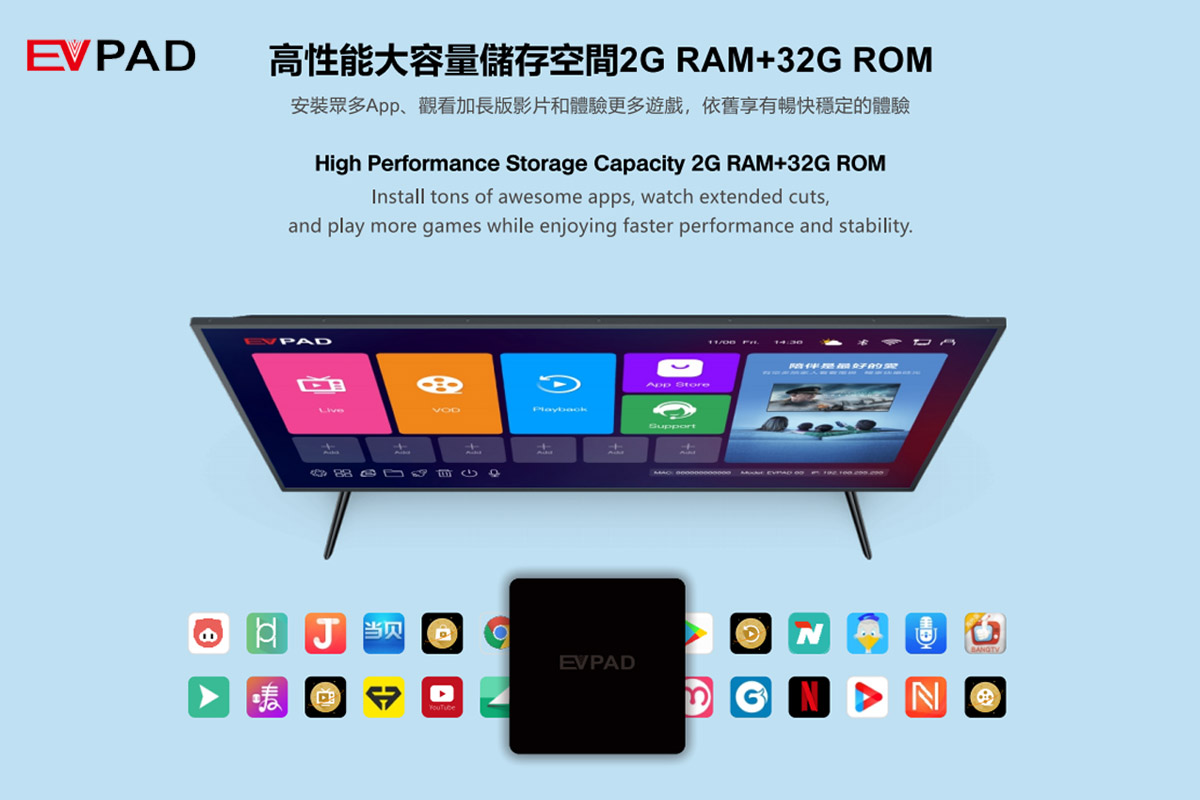 EVPAD 6S Android Box- H.265 Decoding Supported
H.265 makes approximately 50% bandwidth saving over H.264 encoded content at similar image quality.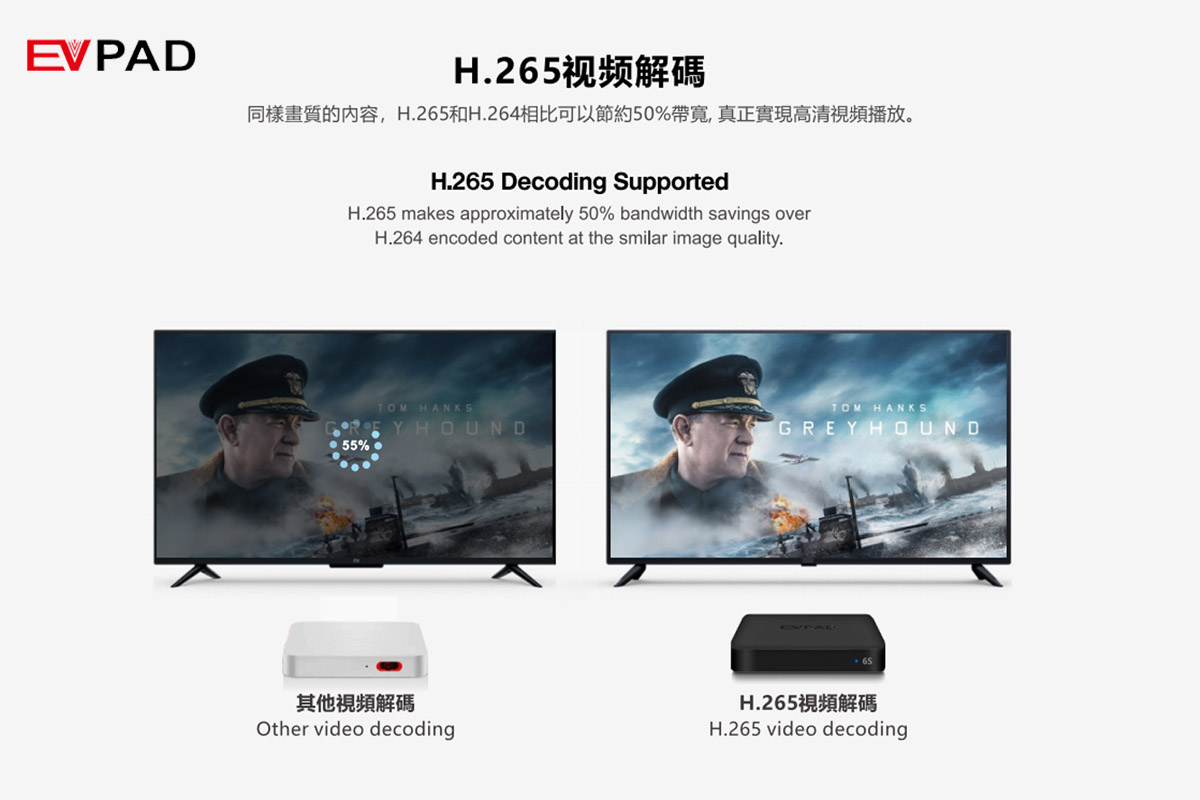 EVPAD 6S - WIFI 2.4GHz/5.8GHz and Bluetooth 5.0
Download and transfer HD video and large data files quickly and easily.
Wirelessly connect game controllers, speakers, and other Bluetooth-enabled devices.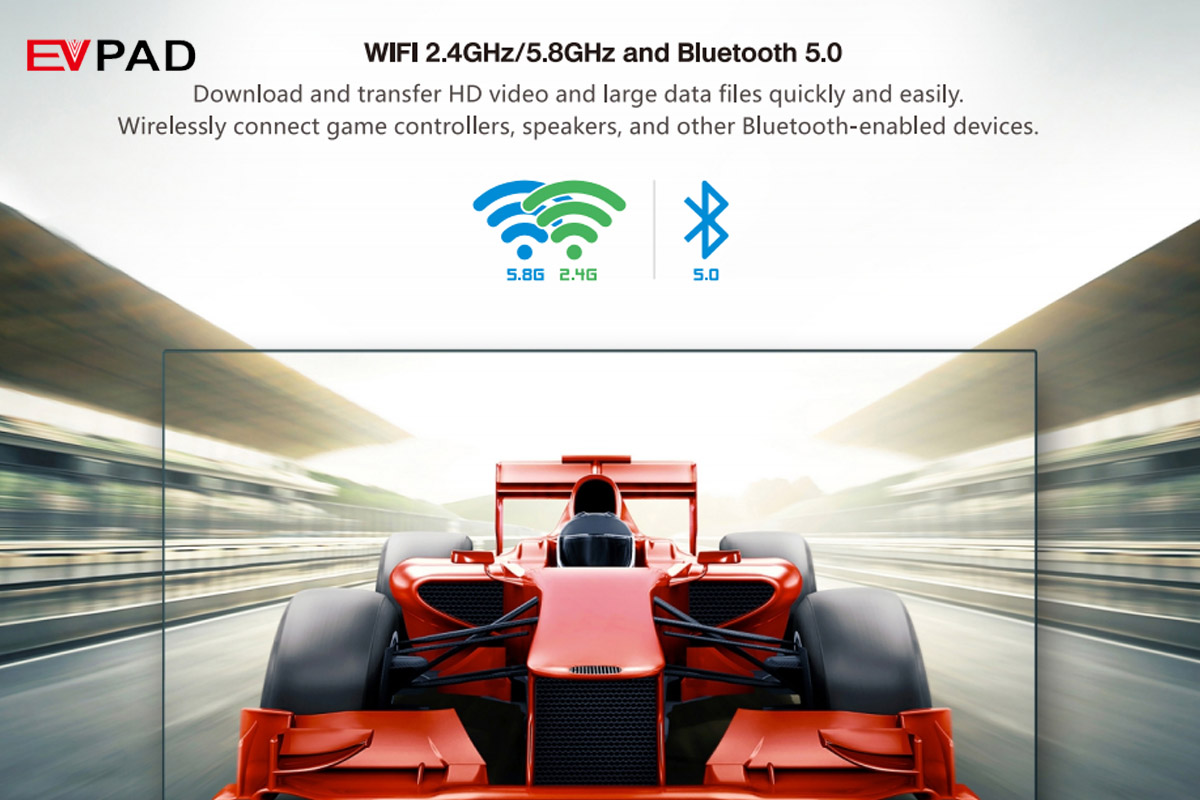 EVPAD 6S STB - EVAI Artificial Intelligence System
Observe you better, based on the in-depth development of the official AI voice platform and Google Voice, two smart platform giants
Including intelligent voice recognition, triple voice recognition, high accuracy of voice recognition, natural voice processing, more than ten kinds of voice broadcasts.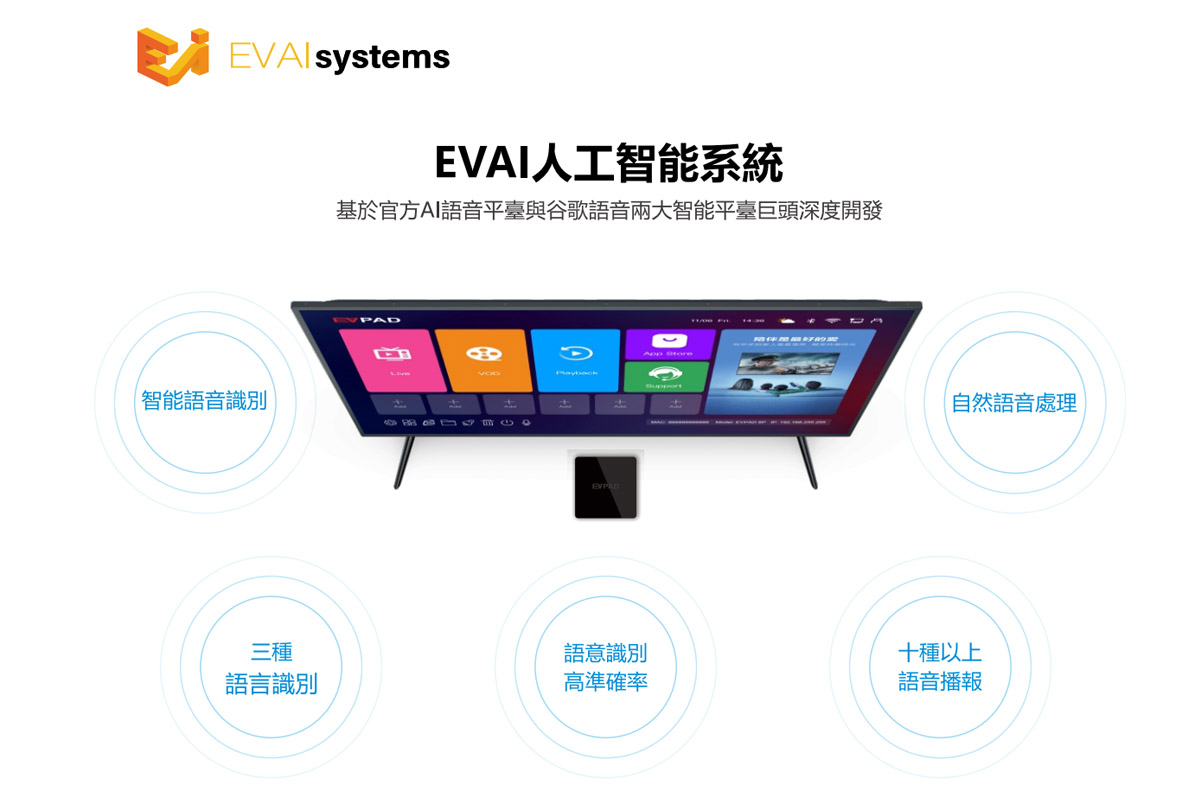 Triple Language Recognition (Support Mandarin, English, Cantonese)
AI Voice TV Box releases your hands, live/on-demand/replay/download, listen to songs/watch TV/watch movies/song/cross talk stories.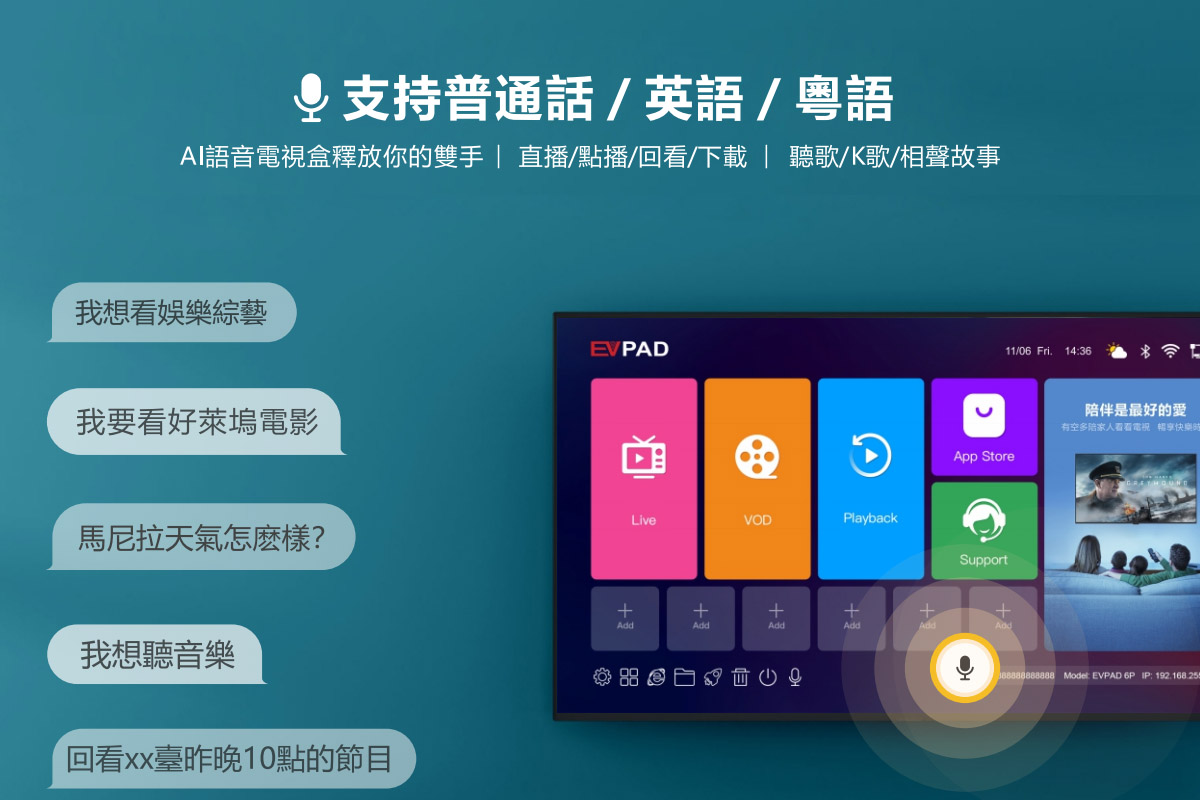 You can watch movies, watch TV, and listen to music just by talking to EVPAD 6S:
1. Live TV Channels: Explain the name of the channel, jump quickly, and also support voice switching of channels.
2. VOD: You can choose one-sentence movies on the whole network;
3. TV Review: Voice review of global TV programs;
4. Software Download: voice download TV application software;
5. Music/Song: Find songs by voice, order songs, support other mainstream songs on Youtube & KTV software, etc.;
6. Story/storytelling/phase scene: find stories by voice, fairy tales, cross talk, storytelling, novels, classics, literature, etc.;
7. Smart Home: voice control of smart home requires supporting smart home equipment;
8. Account Manager Service: memory cleaning, system setting, opening language setting, opening network connection, restoring factory settings, volume adjustment, etc.;

2021 Latest EVPAD 6S Box
Condensing smart chips, obedient to understand you better,
EVPAD 6th generation smart TV box is newly launched, making love and companionship easier
Equipped with a long beak, intelligent voice, quality assurance continues.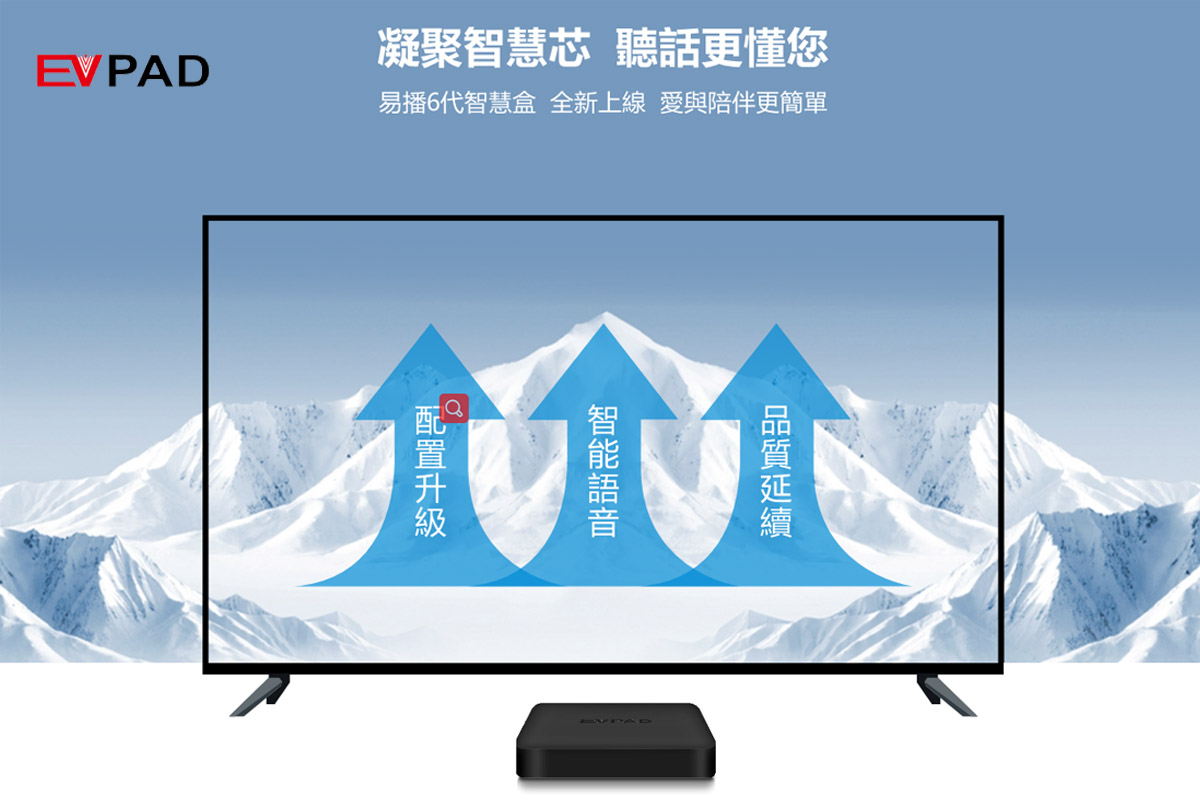 EVPAD 6S Free TV Box Intelligent Voice Remote Control
360-degree voice control without dead ends, it is more convenient to search for TV or Movies, just say as you want.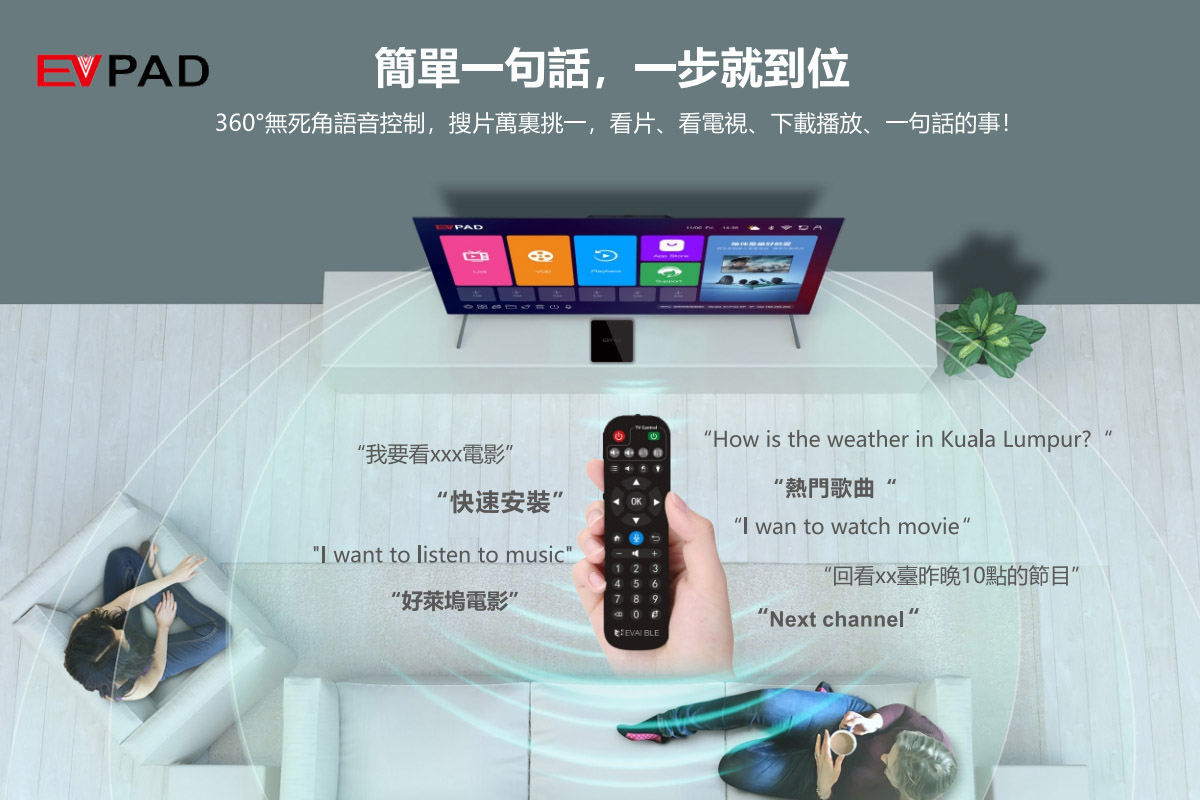 Why buy an EVPAD 6S Android TV Box?
EVPAD 6S will be your smart butler, a good helper in life, a caring companion, and a good partner for growth.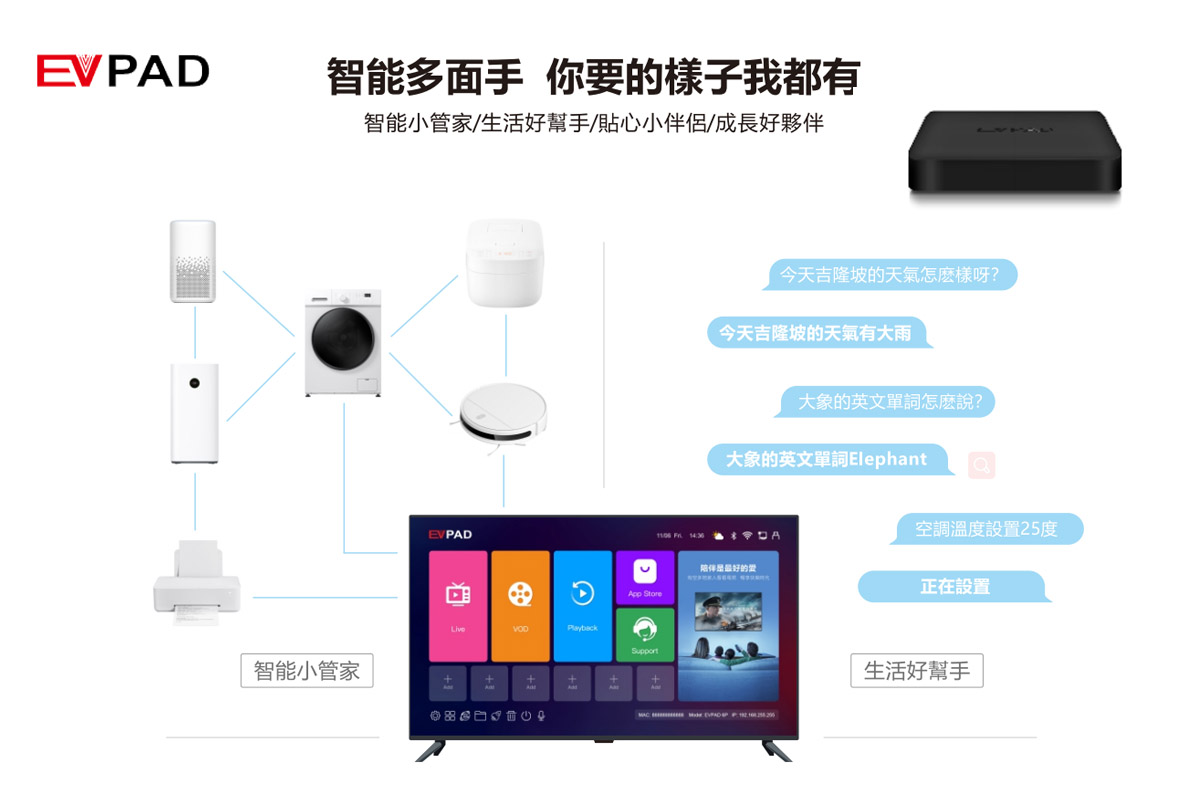 Model
EVPAD 6S
CPU
H616 Quad-core ARM Cortex-A53
GPU
Mali-G31
OS
Android 10.0
Memory
2G DDR3
Flash
32G ROM
WIFI IEEE
2.4Ghz +5.8Ghz
Bluetooth
Bluetooth 5.0
LAN
100M standard RJ45
Video output
Support 4Kx2K & Full HD1080P@60 fps video output
Audio

MPEG L1/L2
AAC-LC and HE ACC V1/V2 decoding
APE, FLAC, OGG, AMR-NB, and AMR-WB decoding
G.711(u/a) audio decoding
G.711(u/a), AMR-NB, AMR-WB, and AAC-LC encoding

Video

H.265/HEVC Main/Main 10 profile@level 5.1 high-tier
H.264/AVC BP/MP/HP@level 5.1, H264/AVC MVC
VP6/VP8/VP9/ MPEG1/MPEG2/MPEG4/
Support 4Kx2K decoding
1080p@60fps/ 2x1080p@30fps/ 4x720p@30fps simulaneous encoding

Photo
PG, JPEG, BMP, GIF, PNG, JFIF
Languages
Traditional Chinese, Simplified Chinese, English, Japanese, Korean, Malay, etc.
Remove control
Bluetooth voice remote control
Power supply
Input 100-240V output DC 5V/2A
I/O
DC IN, IR Extension, LAN(100M), HDMI, AV-OUT, SPDIF, USB2.0 (1), USB3.0 (1), TF-Card
Machine size
96*96*19mm
Machine weight
≤130g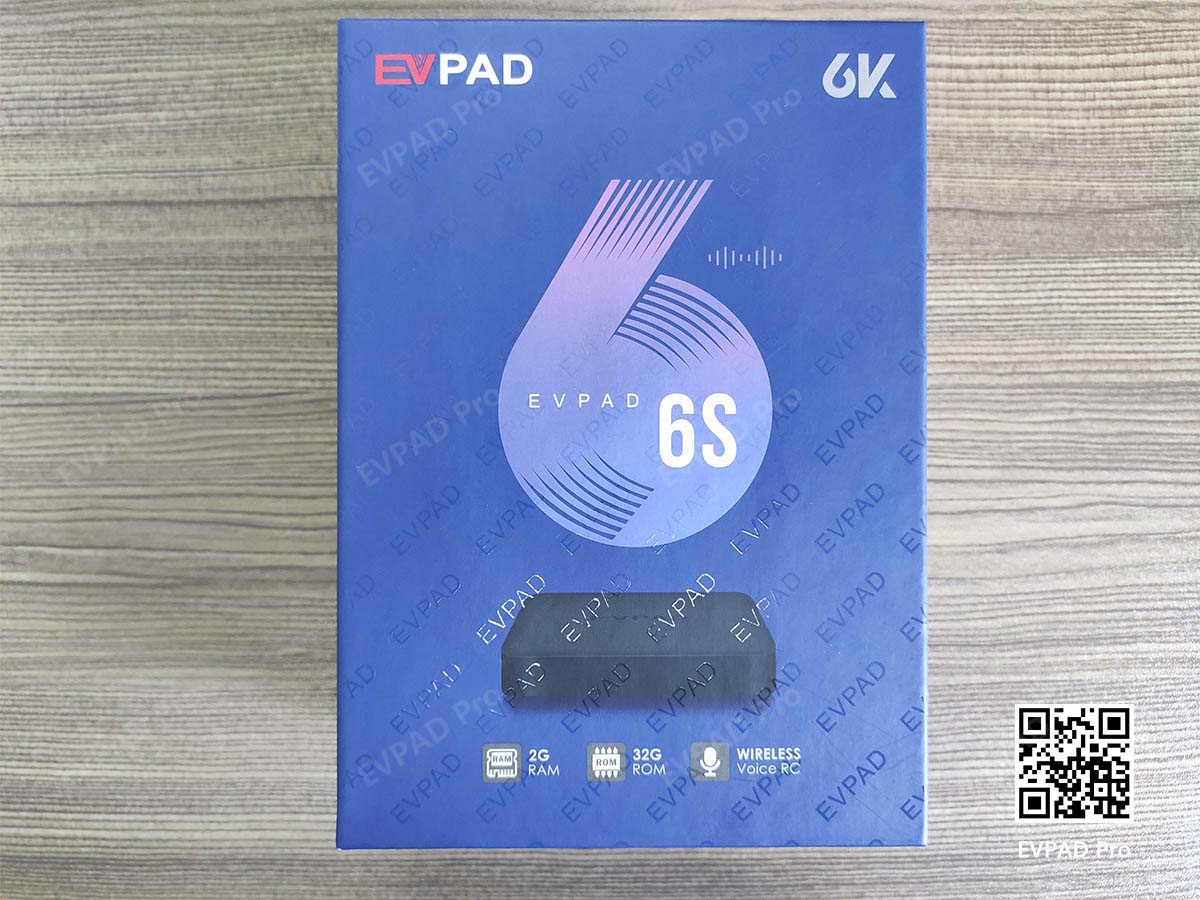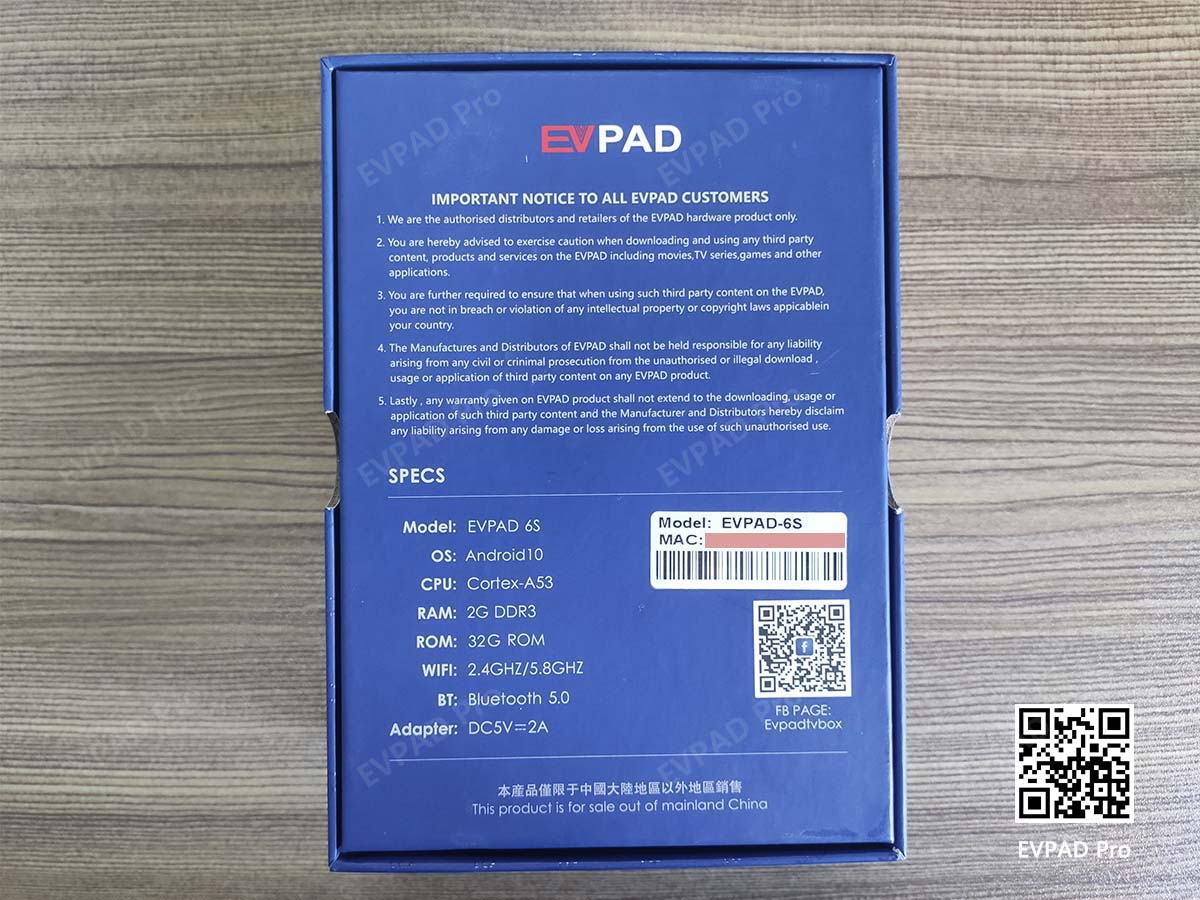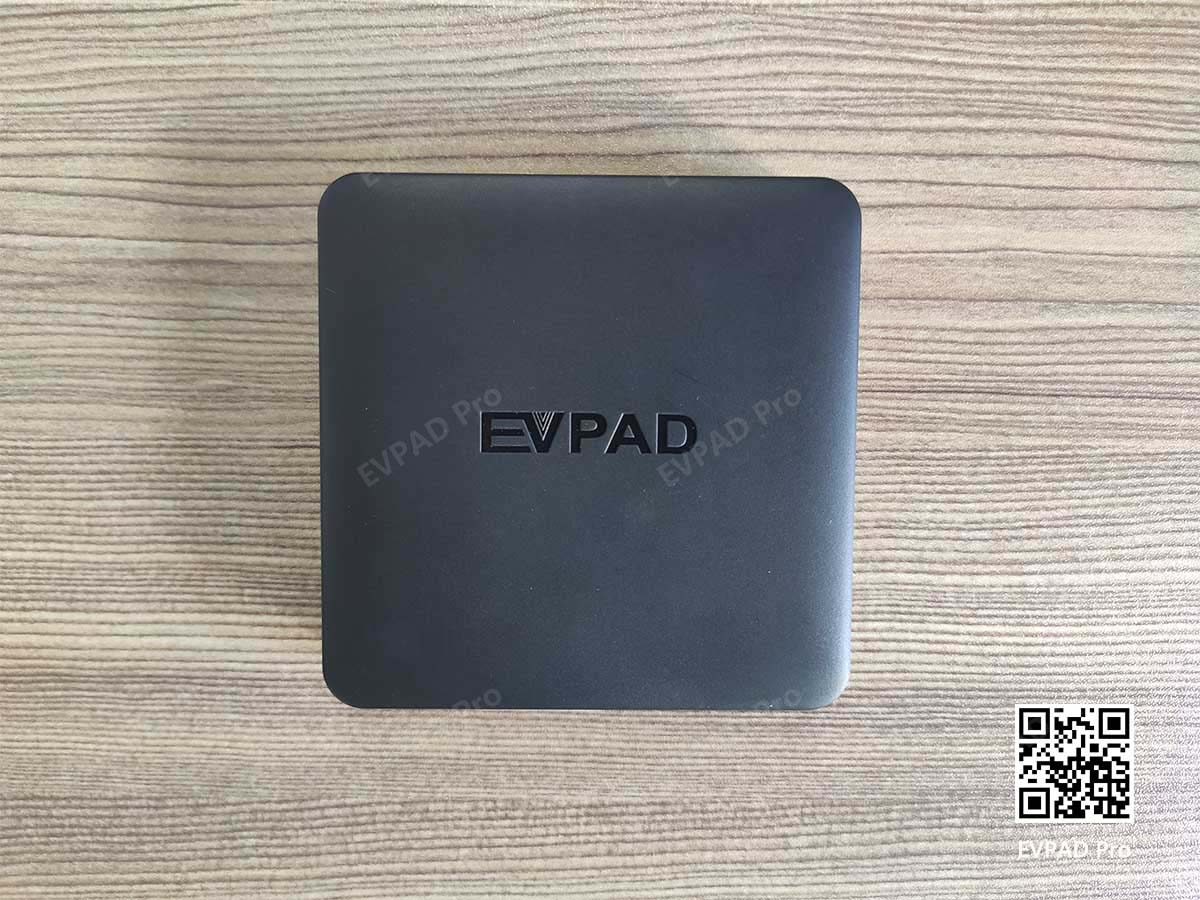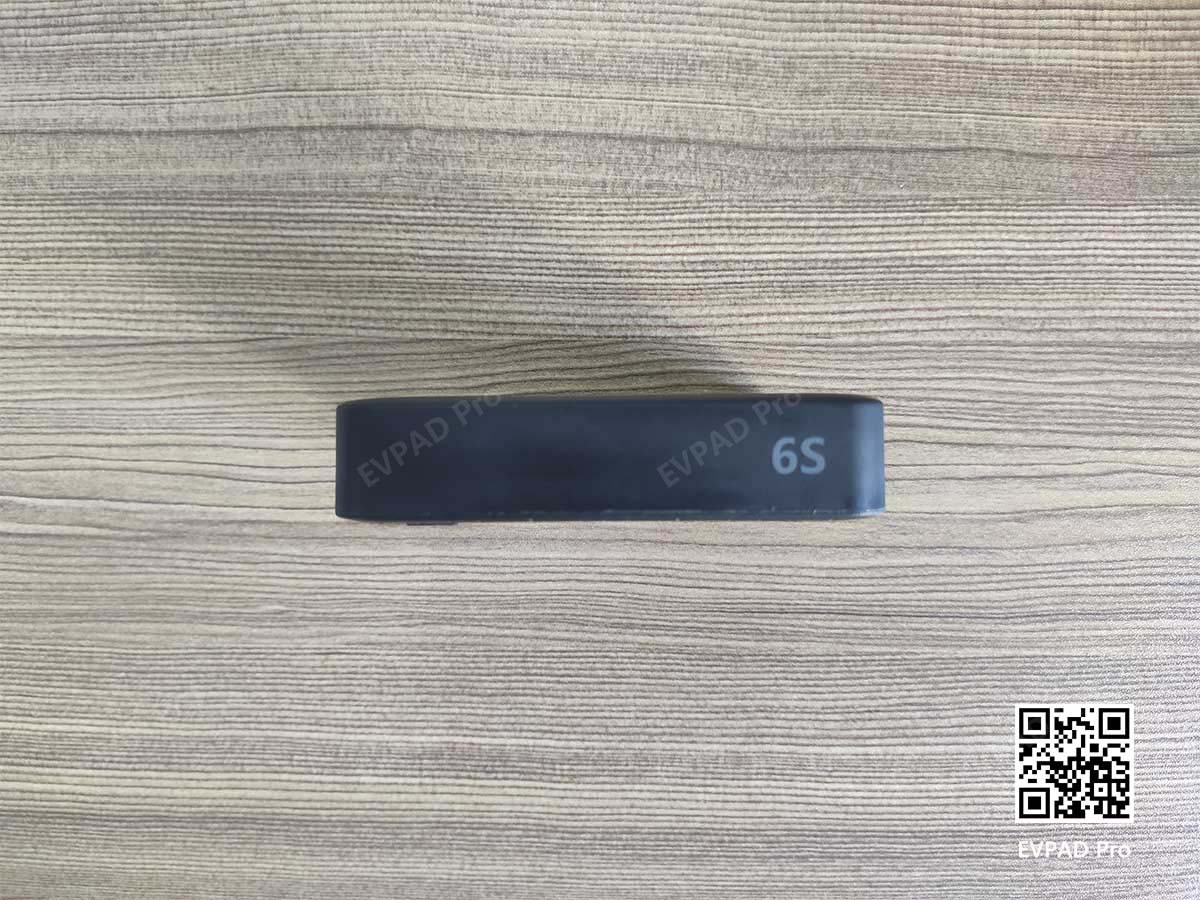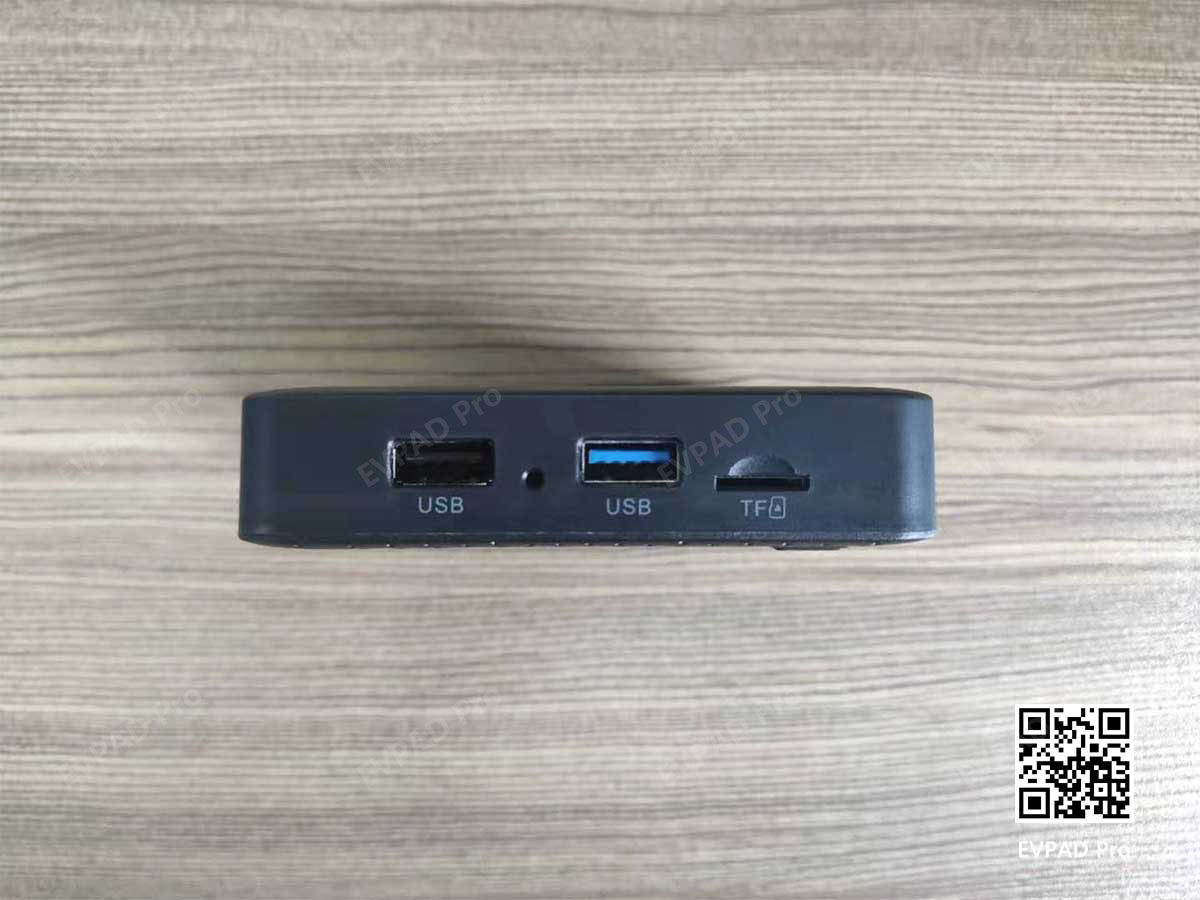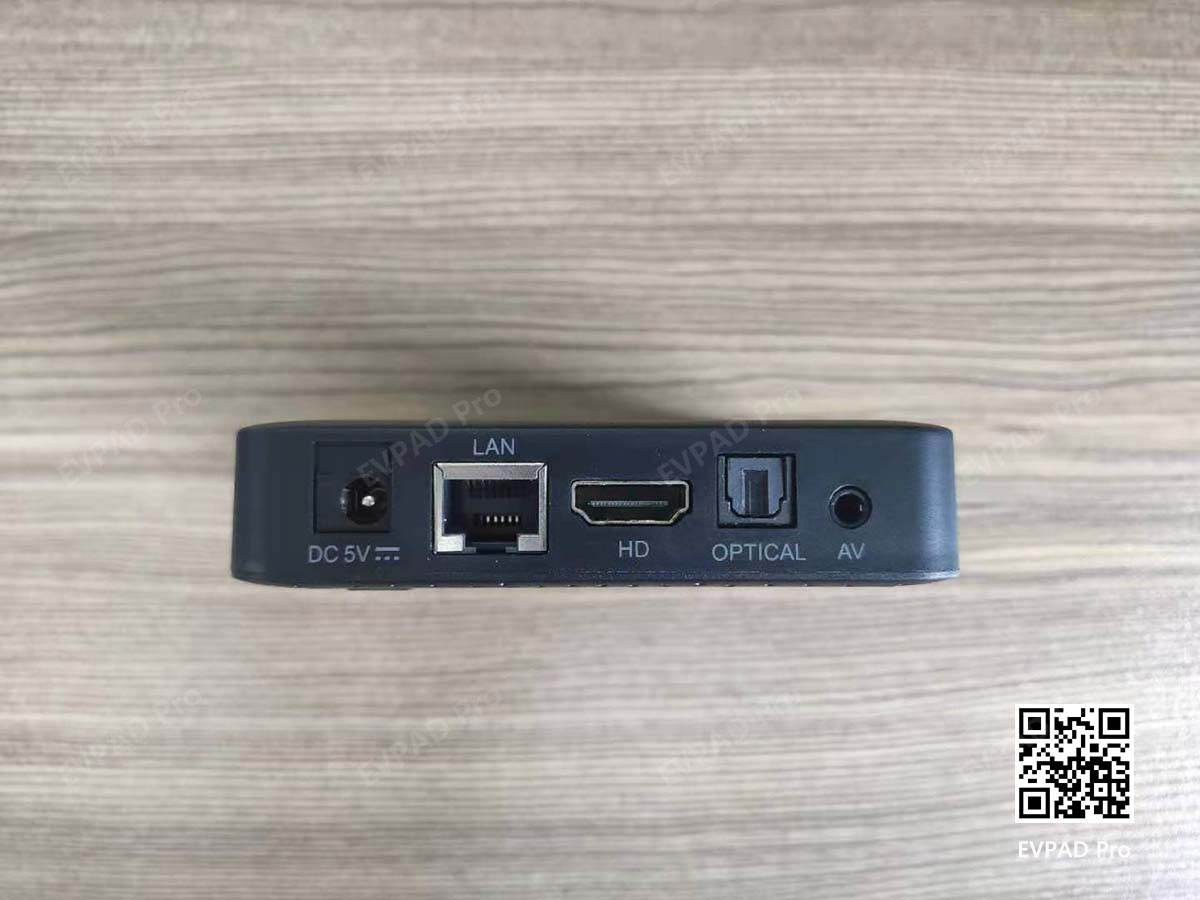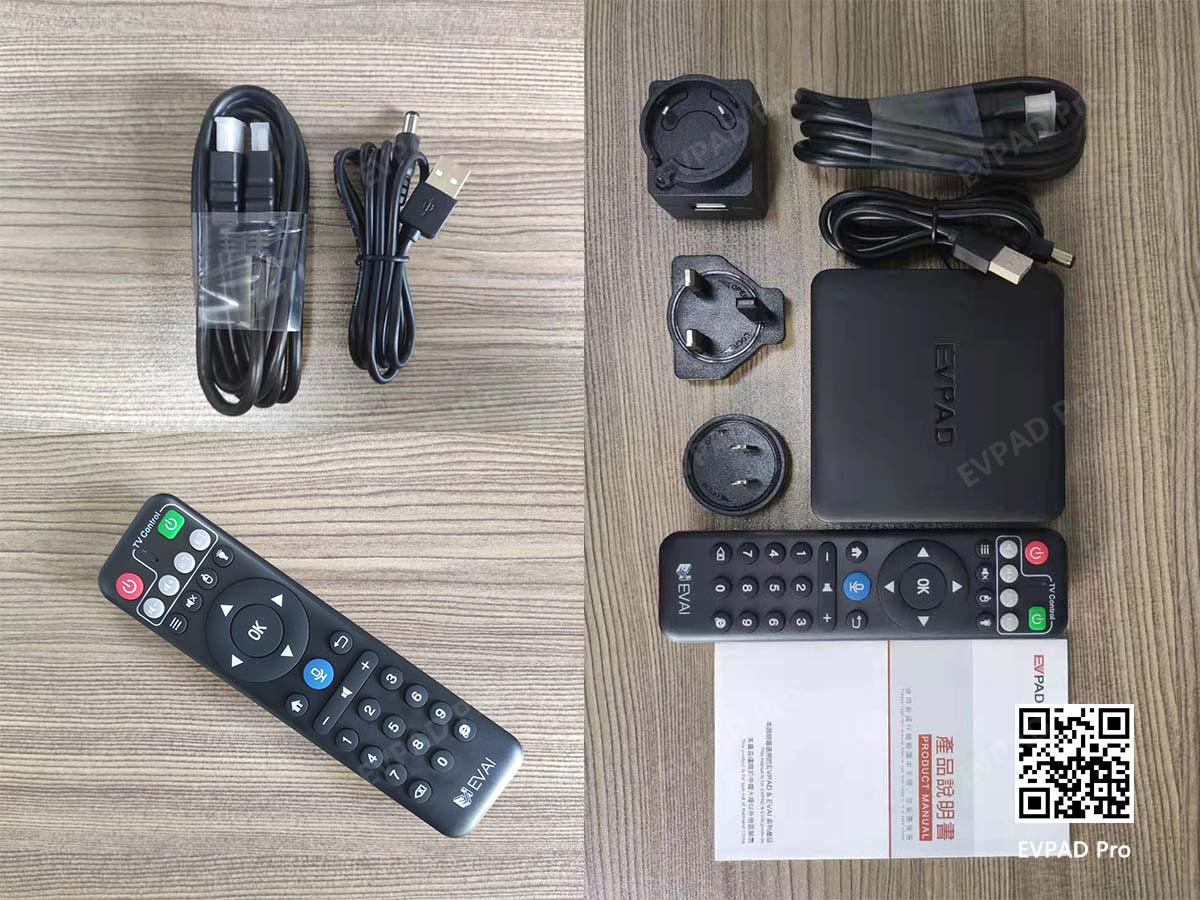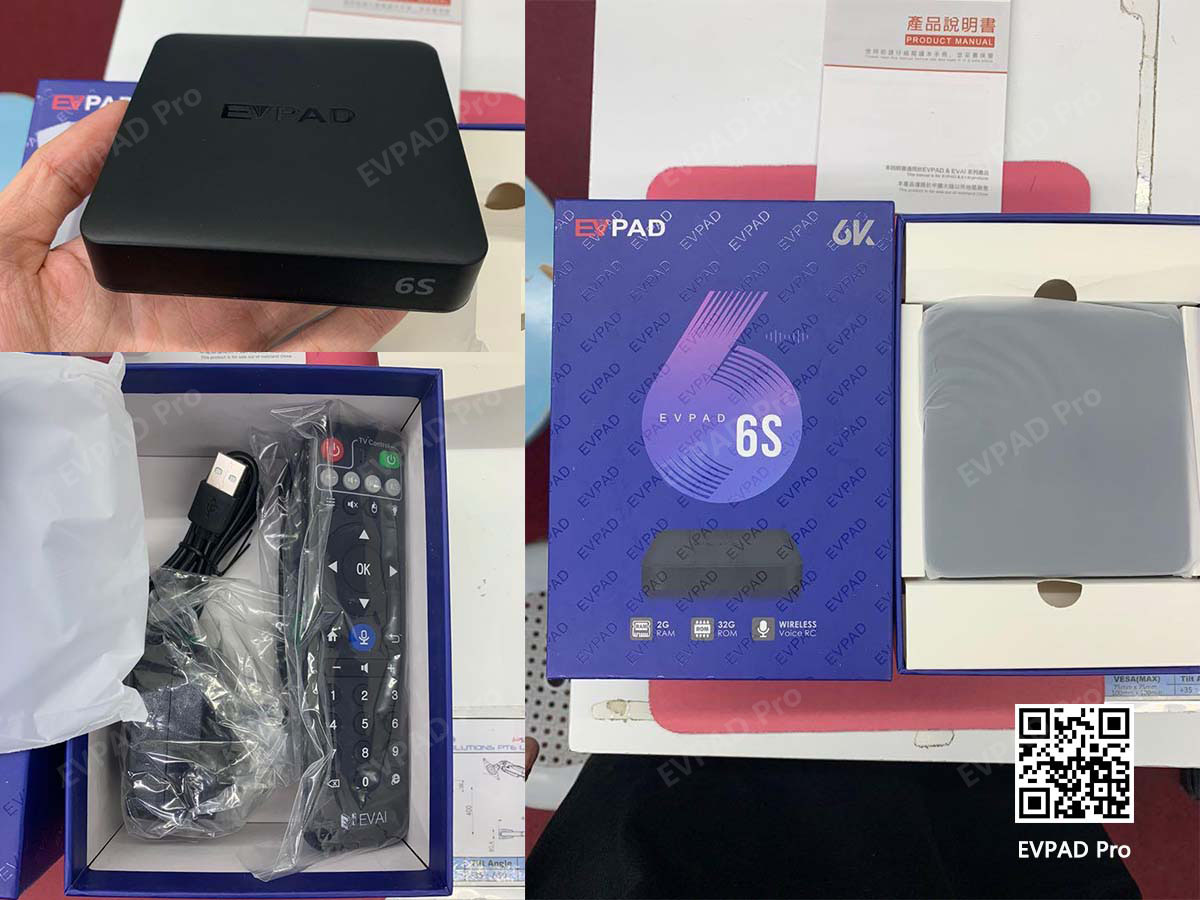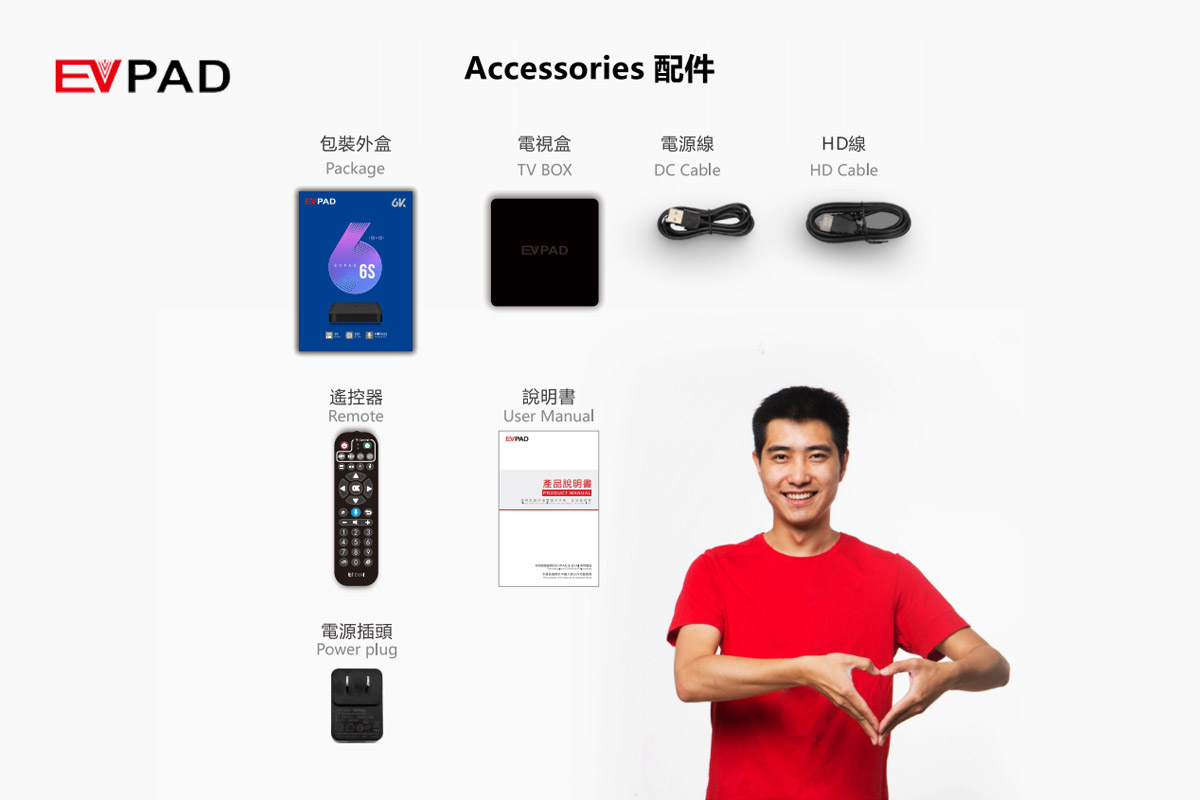 Why buy from EVPADPro?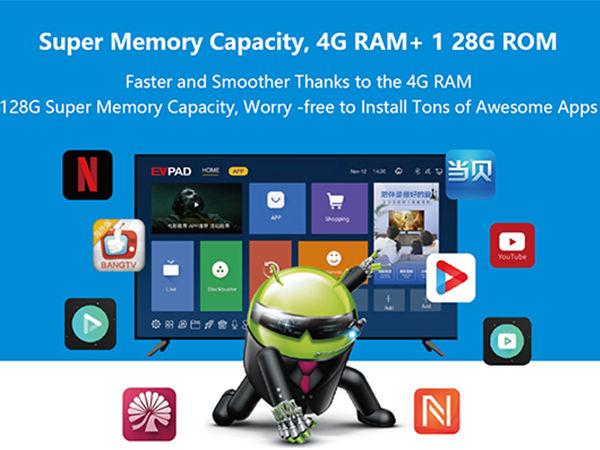 The World's 1st Voice -activated Al TV Box! A small box brings you a wonderful world.
A powerful 8-core processor is specifically designed for TV box. UP to 4G RAM + 128G ROM large storage, RF wireless RC. EVAI assistant.
2.4G/5.8G dual band and dual channel WiFi. 6K resolution, HDR technology, and Dolby&DTS audio bring a treat for your eyes and ears.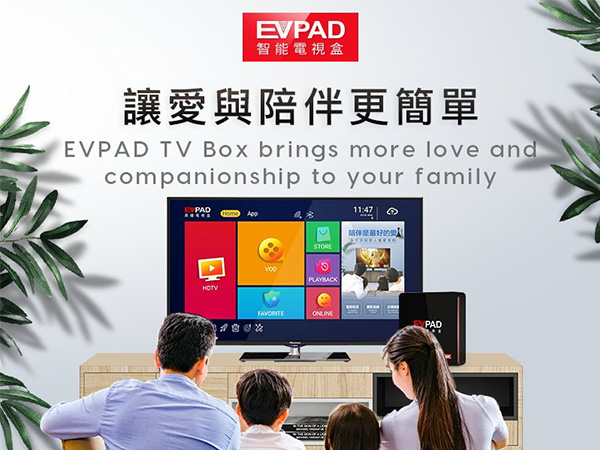 EVPAD TV Box brings more love and companionship to your family.
Massive genuine application matching, eight-core processor, the content is stable and smooth.
Global hot-selling blockbuster, hit TV series, simultaneous update. Have everything you need.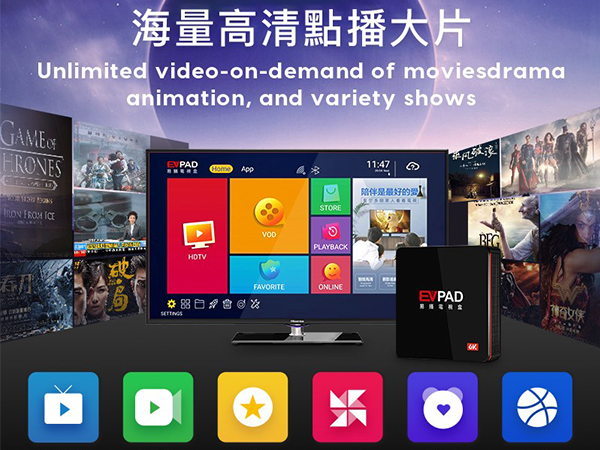 Unlimited video-on-demand of movies, drama, animation, and variety shows.
20000+ super-rich content video on demand, covering major mainstream channels around the world.
Global hot-selling blockbuster, hit TV series, simultaneous update. Have everything you need.
7*24 hours playback,Wonderful everywhere!
70+Time Shift,90+playback,More channels are being added!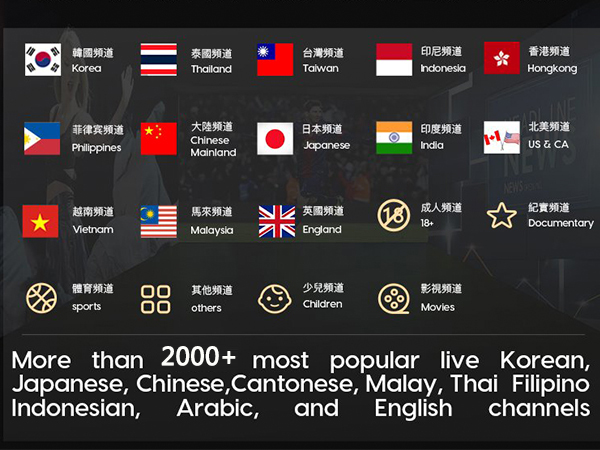 2000+ MOVIE & LIVE CHANNELS.
Covering major mainstream channels such as Mainland China, Hong Kong, Taiwan, USA, Canada, UK, Japan, Korea, Malaysia, Australia, etc.
Watch High Quality HD Free Live Sports TV Channels: NBA, NFL, MLB, NHL, UEFA, European Football, etc.
Watch High Quality HD Free Live adult movie channels,
18+ adult live TV programs.
PAY ONCE, FREE FOREVER!

Top 6 Advantages of EVPAD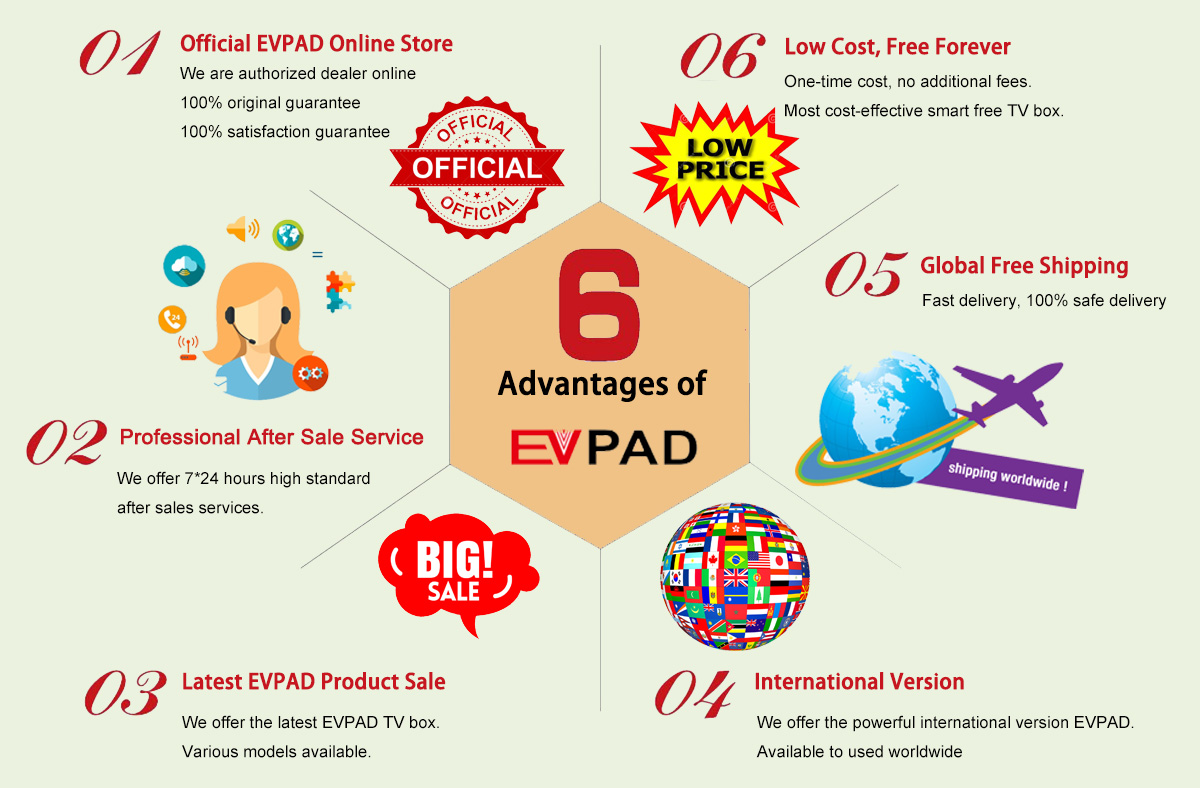 EVPAD & Other Brands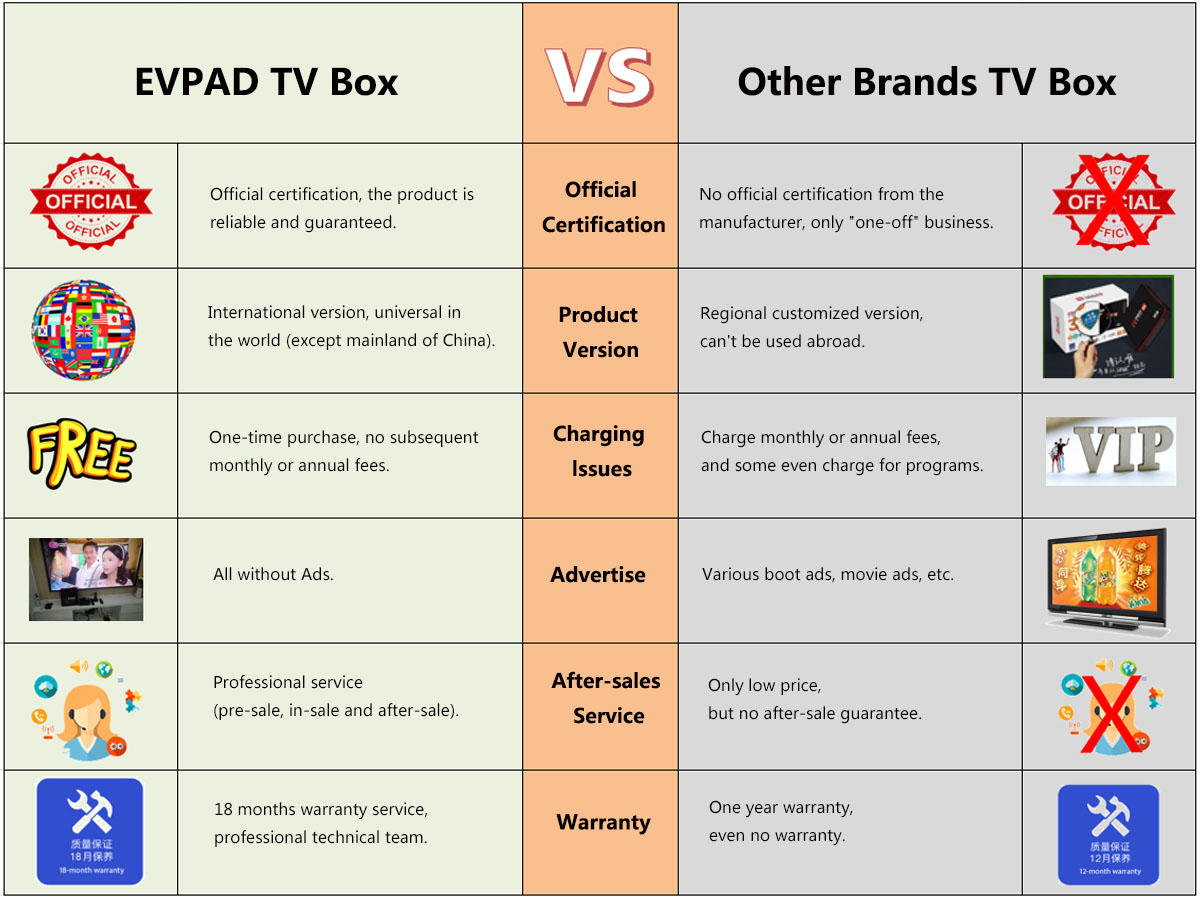 Excellent Customer Experience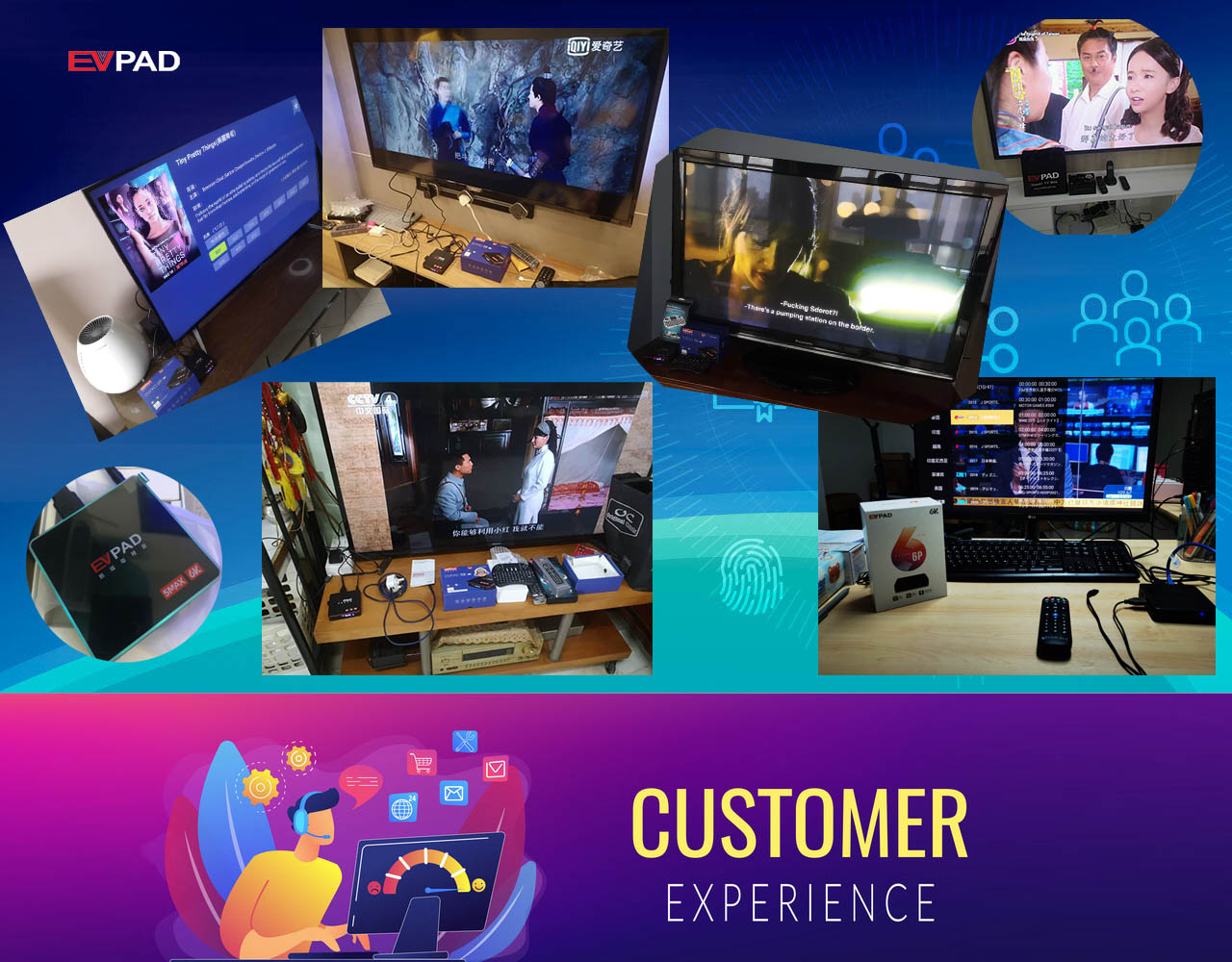 Professional Service Team
You will not have to worry about buying our EVPAD TV box.
Our after-sales team provides professional technical installation guidance and perfect after-sales service.
Everything will be simplified, it will be very easy to get started, come on, enjoy the fun of life starts from the
EVPAD TV box
.
If you need any assistance, please
Contact Us
freely. Thank you.